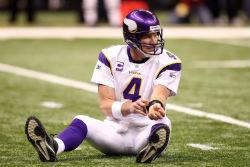 If we learned anything from the Tiger Woods sex scandal (and I think we can all agree that we learned too much ),  it's that even celebrity athletes who should be smart enough to know better will not only compromise their images and their fortunes for a little action on the side, but they'll leave evidence behind.  If Deadspin can be believed, geriatric Vikings quarterback (and married father of two) Brett Favre spent a good portion of his tenure with the Jets a few seasons ago "wooing" Jenn Sterger, a college cheerleader turned in-house sideline reporter. And no, he didn't ply her with chocolates and candy, but instead turned his cell phone camera toward his nether regions and snapped a few pictures.
As a sports fan, I am jaded enough to know that even the most down-home family men in professional sports have opportunities to cheat and an untold number take advantage of it. I tend to separate my affection for their talents from my suspicions about their off-the-field activities (as long as they're not driving drunk, doing drugs, or behaving like Ben Roethlisberger ).  And I'm never surprised when largely uneducated young men who've just been handed millions of dollars and are still constantly showered with gifts and attention do stupid things, like take pictures of their penises without thinking of the consequences of them going public. And taking pictures of your genitals and sending them to women, which could probably be deemed as sexual harassment if the recipient happens to know a lawyer, is not high on the list of the most offensive things athletes do. (Though Deadspin's archive for " athlete dong " is disturbingly robust.)
Yet Favre-whose behavior, if it happened, is still a million miles from reaching the Tiger Woods level-was not a foolish young man at the time. He was playing for the Jets only because he'd RETIRED from the Green Bay Packers in March 2008 and when he wanted to come back, the team and the QB went through a nasty public divorce.  In short, he's old enough-and spent enough time burnishing his reputation as a family man-to know better.
Slate 's William Saletan wrote about "the idiocy of text-message adultery " during the Tiger Woods scandal, and there' s little I can add to his wisdom. But if I may make a plea to all these camera-happy stars: We know you're not going to keep it in your pants. Can you at least stop with the photo shoots already?
Photograph of Brett Favre by Ronald Martinez/Getty Images.
---