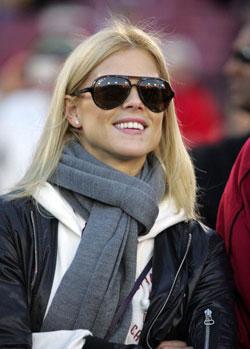 Emily,
I share your opinion that Elin Nordegren's public reaction to her divorce from Tiger Woods makes her a role model for other families going through divorce. What struck me, though, was that the whole situation with the People magazine interview-the most respectable of the gossip mags, carefully timed to appear the very week after their divorce was announced and with the promise it would be the only interview-could have been ripped directly from the Team Tiger playbook (pre-Rachel Uchitel). And the more I think about it, the more it makes sense.
The biggest knock on Tiger before the infamous car crash last November was that he was bland. He displayed emotion on the golf course, certainly, but off the course his public persona was vanilla pudding. He said and did the right things: blamed himself for rare bouts of poor play, spent considerable time doing charity work, and was a solid family man. The man behind that image, we all know now, was much more complicated and much less likable.
I hope for Elin's sake, and especially for her children's sake, that her comments were sincere, that she is moving on and that she and Tiger are cooperating amicably in the shared responsibility of child rearing. But even if Elin does have any raw emotions left, any vindictive feelings (and could you blame her?), she has seen how awful it can be to have the worst of your private life exposed to a greedy public ravenous for scandal. I can only imagine that she would have vastly preferred to have her marital drama play out within the walls of her own home. At least now, she can start her life over with some privacy.
Photograph by Elin Nordegren by Ezra Shaw/Getty Images.
---