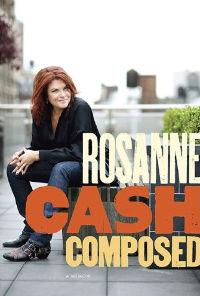 The cover of Composed , Rosanne Cash's new memoir, depicts the artist seated on a terrace. A blurry rooftop water tower in the background reveals that the setting is New York City. But though Cash is wearing a fairly urbane black blazer and jeans, her double-buckled cowboy boots are bedazzled with grommets, and her teased-up hair is dyed a very country-western shade of red. On her face-which bears a remarkable resemblance to that of her famous father, especially in the nose-is a playful, if tight-lipped, smile that seems to say: I know what you might be thinking, but get ready for something different.
It's a fitting image, because what Cash delivers in Composed isn't quite what I expected, and Cash has made a habit in her long career of challenging people's expectations. In the spirit of full disclosure, I have to admit that I'm not a Rosanne Cash fan; I'm a Johnny Cash fan. I picked up this memoir hoping for an insider's account of Johnny, and possibly a juicy read about the demons that haunt the progeny of music legends. But Cash isn't out to air any dirty laundry. Her book is more autobiography than memoir, a linear and straightforward account of her own development as an artist.
She starts with her birth, in 1955, to a father on the brink of stardom, and a mother already growing resentful of her wayward husband. We learn of her childhood in the California desert; her two years on the road with her father after high school; her time working for her father's record label in London; the evolution of her relationship, both personal and professional, with her first husband and long-time producer, Rodney Crowell; her second marriage to producer John Leventhal; her controversial move from Nashville to New York; her relationships with her four children and one stepchild; her experience of the deaths, in quick succession, of her stepmother, father, stepsister, and mother; her frustrations with her voice, and the vocal polyps that threatened to destroy it; the trauma of living in New York during 9/11; and finally her recent brain surgery to relieve a dangerous condition called Chiari. Framing these anecdotes, and central to her story, are the detailed accounts of the making of her 14 albums.
If this seems like a lot of material, that's because it is-though Cash fits it all into a parsimonious number of pages. She manages by never dwelling too long on any experience, and by leaving out the details of some of the thornier periods of her life-her parent's divorce, the failure of her marriage, her father's addiction history, and her own early bout with drug addiction. This sense of reserve in a celebrity memoir seems rare, and at first I felt cheated. (You mean I just read five pages on the recording of Interiors and I don't even get the scoop on the marital meltdown happening simultaneously?!) But Cash's well-told anecdotes, and the portrait she paints of her father as a devoted, spiritual and funny mentor, help to make up for the stories she won't tell. You get the sense that Cash's unwillingness to dwell on the pains of the past or on her own limitations is a big part of why she has been able to succeed. Hers is a familiar story on an outsized scale: a woman struggles and manages to find balance in a big, chaotic, complicated life. Her title is almost sickeningly perfect; in Composed , Rosanne Cash tells a rosy story about composing and about gaining composure. Against all odds, it works.
---