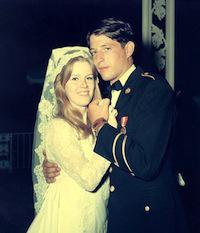 When the news first broke that Al and Tipper Gore were splitting up, Hanna and I speculated on the DoubleX gabfest that the marriage was ending because Tipper was sick of being a politician's wife. Tipper never wanted to be a political spouse in the first place and perhaps she thought that once Al lost the 2000 election, she would get to bow out of the spotlight. And yet Al became an ever-bigger international celebrity, raising awareness for global warming. Now she's caught in the crosshairs of an embarrassing sex scandal. Some reporting from People in the aftermath of the sexual assault allegations against Al now supports our gabfest speculation. "She so wants a private life," a friend of Tipper's tells the magazine.
The pal goes on to say that Tipper doesn't believe the accusations from massage therapist Molly Hagerty about Al's alleged demands for sexual favors. "And they also say Al had an affair with a Tennessee Titans cheerleader one week, a Hollywood producer the next," the Gores' friend reveals to People . If Hagerty's allegations hold up in court, I'd be surprised if Tipper went the same tell-all route that Elizabeth Edwards and Jenny Sanford have gone. It seems like Hagerty's accusations are devastating to Tipper not because she believes they are true, but because they've robbed her of the semi-anonymous life she believed was finally within her reach.
Wedding photograph of Al and Tipper Gore courtesy of Wikimedia Commons.
---