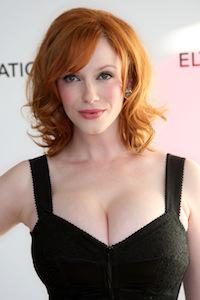 Right in time for the new season of everyone's favorite sexy-patriarchy show , Christina Hendricks graces the cover of Health magazine , looking particularly gorgeous. In the interview , she talks about her gym routine and her positive body image, noting that the 15 pounds she gained on a trip to Italy made her feel so great she decided to keep the pounds around:
I guess my mom raised me right. She was very celebratory of her body. I never heard her once say, 'I feel fat.' Back when I was modeling, the first time I went to Italy I was having cappuccinos every day, and I gained 15 pounds. And I felt gorgeous! I would take my clothes off in front of the mirror and be like, Oh, I look like a woman. And I felt beautiful, and I never tried to lose it, 'cause I loved it.
This is refreshing: a famous actress saying that it's not just OK to gain weight, it's desirable . (Not that her curves haven't been celebrated before; Hendricks is essentially the go-to gal of curvy girl tokenism .) Too bad the message comes packaged along with the bold headline on the cover: " Lose 6 lbs in seven days !"
Photograph of Christina Hendricks by Frederick M. Brown/Getty Images Entertainment.
---