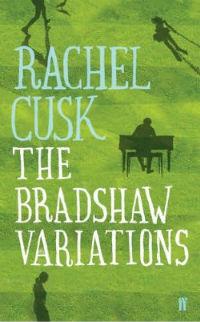 Like many Americans, I became aware of Rachel Cusk through her memoir A Life's Work: On Becoming a Mother , which is still the most poetic, unsparing description of the first year of motherhood I've ever read. But Cusk's real specialty is the novel, particularly the closely observed drama of domestic unhappiness. Her latest, The Bradshaw Variations , has a promising set-up. Thomas Bradshaw has decided to switch places with his intense, intellectual wife. He stays home with their daughter Alexa and practices the piano while Tonie goes off to her job as a professor. Thomas finds himself unsure of what to do hour to hour, while Tonie finds herself away at a hotel and lonely. Cusk is especially good at describing their different conceptions of time, how, without the steel building and the synthetic smell of his old secretary's clothing, Thomas has a hard time placing himself in the present.
Over time, each of them settles into a new rhythm, and while they are not exactly unhappy with each other, their life together becomes a series of missed connection. Such is true for everyone in the extended Bradshaw family-Thomas' brothers, his parents, and in-laws. All are half-estranged, failing to communicate, discontented but never quite able to articulate why. As with many of Cusk's suburban set pieces, after a few chapters a certain sourness seems to settle over the neighborhood. The individual characters become irrelevant; the essential actor is the pervasive isolation and disenchantment, which afflicts old and young alike. Cusk lost me when she grafted this weary voice even onto Alexa. No child in elementary school "thinks she likes this huge, unspecified freedom that lies darkly all around this fussing, probing point of knowledge."
The novel ends in a very punishing way. Tonie finally manages to forge a connection and a few hours of pleasure, and she is brutally punished for that sin. She instantly quits her job and repents. It's a great disappointment. In her memoir of last year, The Last Supper: A Summer In Italy , Cusk did a fine job defending her choice to seek novelty and adventure over the settled routines of domestic life. I found myself wishing she'd once give her characters a taste of that freedom as well.
---