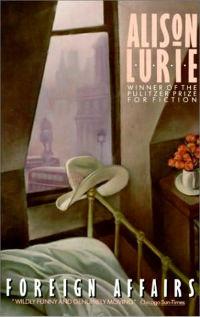 When The New Yorker 's 20 under 40 list of fiction writers came out last month, the blog Ward Six responded with a list of 10 fiction writers over 80 , because the writers included "have been kicking ass for longer than we have been alive." One of my personal favorites, Alison Lurie, was on this list, and I was inspired by that blog post to reread my favorite of her many novels while I was on vacation: Foreign Affairs . Though our books of the week are usually recent publications, I decided to write up Foreign Affairs because it's the ideal beach book. The subject matter is light and engaging, but it's so marvelously written (and has the Pulitzer Prize imprimatur) that you won't feel like you've consumed the literary equivalent of Twinkies after you've finished it.
The book begins with professor Vinnie Miner, a 50ish unmarried woman who is headed for a semester of research in London. Miner takes great pride in her self-awareness: She is forthright about her plainness, and how she believes her looks have affected her romantic life. She also takes great pride in her professional success, and has been recently brought low by a mean critic in the Atlantic , who mocks her area of study-children's literature.
Alternating with chapters about Miner are chapters about her colleague, Fred Turner, a movie-star-handsome fellow English professor whose marriage to a tempestuous young woman named Roo has recently disintegrated. He is also spending the semester in England, and he takes up with Lady Rosemary Radley, the equally attractive-and significantly older-heroine of many BBC historical dramas. Vinnie, too, has romantic entanglements. She is still fretting over the mean old critic when she is accosted by a yokel named Chuck Mumpson, who looks like a cartoon cowboy with his intense mustache and fringed jackets. Though Chuck does break through Vinnie's steely exterior with his warmth and vulnerability, their affair doesn't come off as romantic-comedy cliché, thanks to Lurie's trenchant wit.
Vinnie and Fred's lives intersect at various points throughout the novel, and Lurie's gift for structure shines. As Christopher Lehmann-Haupt wrote in the New York Times review of the book when it came out, "I couldn't help visualizing a diagram with the rise of Vinnie's fortunes superimposed on the decline of Fred Turner's. There's something almost musical in the way the two plots interplay, like two bands marching toward each other playing consonant music." Couldn't you use a little structural symphony while you're sunning yourself this weekend?
---