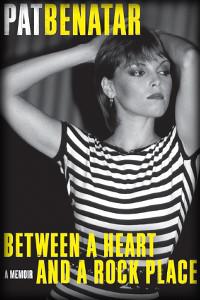 When I was growing up, listening to "Hit Me With Your Best Shot" play on the classic rock station, I thought Pat Benatar was a man. The androgynous name, tough voice, and assertive lyrics had me picturing some ratty-haired guy in a sleeveless leather vest, just another early '80s rocker with a high tenor. The real Benatar is a petite brunette who graced the cover of Rolling Stone in red lipstick and heels, but her voyage to rockstardom required crashing a male-dominated world. In her engaging new autobiography, Between a Heart and a Rock Place , Benatar describes entering a music industry where females were seen as outsiders. "Women?" she writes. "They weren't equals, they weren't rock stars, they weren't players. Women were girlfriends or groupies." With a microphone and an amplifier, Benatar fought to transform that landscape.
A tree-climbing tomboy who was also crazy about fashion and boys, Benatar tried from an early age to bridge the gender gap. She climbed onstage in tight tops and hiked-up skirts, proud and in control of her sexuality, but her record label saw her curves as an opportunity to capitalize. Chrysalis discouraged her relationship with guitarist (and later husband) Neil Giraldo because, according to Benatar, she could sell more albums if she seemed "available." She was pushed to pose provocatively on album covers, and when she got pregnant, sternly informed that "mothers aren't sexy." To advertise the release of Crimes of Passion , Billboard magazine airbrushed a photograph to make her appear naked. Benatar reacted with fury to the single-minded focus on her sexuality. When a producer told her, "I hope you don't think people are coming to your concerts to listen to you sing," she slapped him in the face. She eventually left the label.
Benatar wanted to be taken seriously as a rock musician, not just as a woman who played rock music. And her songs proved that she was more than a sex kitten. Behind the thick eyeliner and bad-girl bravado was basic feminist gospel: She warned men to treat women right, and told women not to accept anything less. Her music was a message of female strength, both in her lyrics and the raw power of her voice. Offstage, she proved that strength by balancing a hectic rockstar schedule with a growing family. She set up a porto-crib in the recording studio for her infant daughter, and loaded the band's tour bus with strollers and baby toys when they went on the road. A year after her second daughter was born, Benatar carried her onstage to a cheering audience.
In 1997, Benatar joined the all-female music tour Lilith Fair, started a year earlier by Sarah McLaughlin to prove the market for women in music. Surrounded by talented and successful female performers, Benatar says, her mind was on "the extra five layers of skin I'd had to grow just to be standing on stage." Battling sexism all the way, she won four Grammys and landed 19 singles on the Top 40 chart over the span of her career. She was the first woman to be featured on MTV . Her music brought female rockers into the mainstream, and helped usher in the punk rock feminism of the riot grrrls-bands like Bikini Kill that were both fiercely sexual and openly political. While recording fewer songs these days, Benatar is still touring (she headlined 2009's "Call Me Invincible" tour alongside Blondie and the Donnas) and keeping an eye on the next generation of female rockstars: "It's empowering to watch, and to know that, perhaps in some way, I made the hard path that they still have to walk just a little bit easier."
---