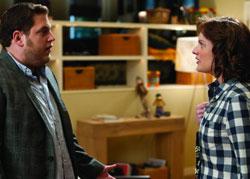 Get Him to the Greek is, on its face, a movie about a drug-fueled international rock-star road trip (read Dana Stevens' Slate review here ). But there is actually something fairly progressive at play in terms of the relationship between the protagonist, Los Angeles music industry A&R rep Aaron Green (Jonah Hill) and his girlfriend, Daphne (Elisabeth Moss), who is a doctor-spoilers ahead.
Aaron has been tasked with bringing flakey rock god Aldous Snow from London to L.A. for a concert in a moment that could make or break his career. Just before he tells Daphne-who is constantly exhausted from her rotation schedule-about his career coup, she reveals that she's been offered a spot at a hospital in Seattle. The gig in Seattle is much better for her career, so she assumes that her live-in-love Aaron will move with her from L.A. Aaron balks at this, and makes a snide comment about how he feels like a '50s housewife whose husband has no regard for his needs and desires (there is some mention of his balls being cut off and put in a handbag). Daphne, who is too tired and out of it to argue, says that the couple should take a break. Neither of them comes off particularly well in this conversation-Aaron is overly defensive; Daphne is too rigid.
The main action of the film doesn't have all that much to do with Aaron and Daphne's relationship, but it's worth noting that in the end, the couple reunites and does move to Seattle. I was reminded of a Jezebel post from a few weeks ago on how women may be more hesitant to relocate for work , and I was somewhat heartened to see that in a Judd Apatow co-produced movie (no wellspring of feminist sentiment), a woman's career desires were seen as just as, if not more, important than a man's.
Still from Get Him to the Greek (c) 2010 Universal Pictures.
---