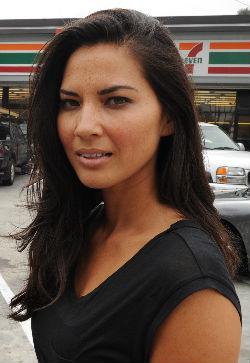 Over on Jezebel, Irin has put together a very diplomatic overview on what she calls the Daily Show 's "woman problem ." As she intricately details, it's a problem that's plagued the late-night show in stops and starts over the last decade or so, peaking in 1997 when then-host Craig Kilborn made this banger at the expense of Daily Show co-creator and writer, Lizz Winstead (which is about as unfunny as it is offensive): "To be honest, Lizz does find me very attractive. If I wanted her to blow me, she would." Kilborn left the show shortly after only to land a network gig with CBS, and Winstead went on to work on a handful of other comedy shows. Her co-creator, Madeleine Smithberg, stayed on through the Daily Show 's host transition, when the equal-parts-adorable-and-sharp Jewish boy of our dreams, Jon Stewart , took over. But evidently Stewart and Smithberg had a difference of vision, which reportedly manifested itself when Stewart threw a newspaper at Smithberg out of frustration and disallowed her (again, the co-creator of the whole shebang) to come on stage during their Emmy win. She quit in 2003.

There hasn't been a new female correspondent on the Daily Show in seven years . (Of course, Samantha Bee, thank gawd, is holding steady.) Probably upon realizing this lack is not such an ideal position for everyone's favorite can-do-no-wrong liberal comedy show to be in, the Daily Show went on the hunt for new female talent last year. A comedy insider told me there were casting calls in New York, Chicago, Canada, even. Comedic geniuses of the female kind from Upright Citizens' Brigade, Second City, and other famed institutions auditioned for the show. And somehow, amidst all the absurd female talent out there, Olivia Munn got the call. Munn, a FHM model and former video-game talk-show host with little experience doing comedy, is known for stunts like this . She eagerly gloated that she landed the Daily Show gig with a Holocaust joke. As she told the Daily Beast , " In the first 10 minutes of my meeting with Jon, I made some kind of Holocaust joke-and by the way? It's always too soon-and he died laughing. He was like, 'Wow, you open up with the Holocaust?' I said, 'No, no, it's cool. I dated a Jewish guy!' "

I'm sorry in advance for being a snob here, but Holocaust jokes are so passe they basically pack the same comedic punch as a chicken-crossed-the-road joke. Meaning: You don't get hired on the freakin' Daily Show f or one. And the follow-up line: "No, no, it's cool. I dated a Jewish guy!" is 1) not funny and 2) the kind of hokey humor you expect to see in something like the manufactured gallery of Esquire 's "Funny Joke From A Beautiful Woman." The sole joy of which is based in the longstanding (but wrong) assumption that beautiful woman can't be funny, so if you can get a scantily-clad actress or bikini model to tell, say, a knock-knock joke with a dirty word in it, well then, the very novelty of such an occurrence-it's hilarious, I guess! But in reality, hilarious isn't the right word. It's more titillating . See for yourself: Is this Daily Show -caliber funny ?

The Daily Show has commented on Munn's hire, saying that they're happy to cater to "nerds," whom they assume Munn will draw to the show's viewership. (I'm guessing they're using "nerds" to mean "nerdy DUDES" since none of the other correspondents have been commended for their ability to bring in the nerds before, which they all obviously do.) Glad to know that someone there thinks that the Daily Show essentials, you know-news, politics, humor-are kinda dude-y things. I'm sure that sits real well with the two female creators.

And this has been your Moment of Zen.
Photograph of Olivia Munn by Mark Ralston/Getty Images.
---