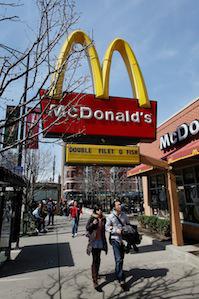 Ronald McDonald has had a rough month. First, Shrek promotional glasses were recalled when the images painted on the outside were found to include cadmium. Now, the whole Happy Meal is in danger-that is, if the Center for Science in the Public Interest can find a court sympathetic to its claims that the toys included in the meals constitute unfair and deceptive marketing. Say what you will about the CSPI, they never hesitate to go over the top: "McDonald's is the stranger in the playground handing out candy to children," said CSPI litigation director Stephen Gardner. "McDonald's use of toys undercuts parental authority and exploits young children's developmental immaturity-all this to induce children to prefer foods that may harm their health. It's a creepy and predatory practice that warrants an injunction."
I'm not quite following the logic of the lawsuit-it seems to me that the company promises a toy with the purchase of a meal, and in my experience it is always happy to deliver-but then, I haven't read the briefs. And I suspect the briefs are secondary. What this is about is rhetoric: "McDonald's marketing has the effect of conscripting America's children into an unpaid drone army of word-of-mouth marketers, causing them to pester their parents to bring them to McDonald's." Like the Santa Clara County Board of Supervisors, which took the first steps toward a ban on toys in unhealthy meals last April (no Happy Meal qualifies as healthy by the ban's standards), the CSPI has determined that parents are French-fry-whipped and helpless before the combined might of whining children and the golden arches. The real hope isn't for victory in court, it's for an out-of-court agreement regarding the toys and the meals: As AP writer Mary Clare Jalonick points out, when the CSPI sued Kellogg's in 2006, the result was an agreement that the company would raise the nutritional value of its cereals and snacks (and just think how much better off we all are as a result of that).
Photograph of McDonald's by Scott Olson/Getty Images.
---