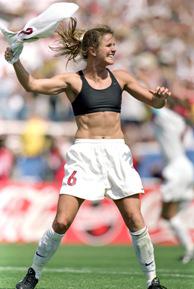 The United States is already pretty apathetic towards the World Cup, so it's no surprise that, for some American women, the promise of meeting British bachelors in nearby pubs is the only appeal of this year's tournament. Of course there are plenty of female soccer fans who aren't in it to score boyfriends with accents, but the coverage of this year's tournament only seems to favor unfortunate spectacles of women, from the trifling " World Cup Widows " and soccer players' girlfriends to the despicable Somalian bra ban and the trafficking of prostitutes in South Africa. As in most televised sports, the TV ads during on-air matches are usually targeted toward men, unless they're pointedly reversing expectations by showing that women can actually be well-versed in the rules of the game .
When it comes to the female soccer players we don't see in this year's all-male tournament, the public attention tends to be nuanced for the better. There's a fair share of girl-fight recaps , but at least the coverage of women's collegiate soccer and FIFA matches give visibility to women engaging with the game beyond corporate or spousal ties. Internationally speaking, the female presence (or notable absence) on the field and in the stands gives the rest of the world a glimpse of larger battles beyond the stadium grounds. FIFA's ban on hijabs , for example, still keeps the Muslim women on Iran's team from participating in tournaments abroad. The fearless Iranian women's team star Niloofar Ardalan was not permitted to attend a men's match until 2005.
So, there's quite a lot to be said about women in soccer that doesn't have to do with marketing stunts or prospective husbands . Even the popular Bend It Like Beckham latched onto the empowering undercurrent of women's soccer, using its fictional team of British teen girls as an obvious but well-intentioned personification of clashing cultural and generational values. I'm sure that a lot of those same women vying for Brit-boy affections can also remember when the world-champion U.S. women's soccer team moved male and female fans alike back in 1999. Who can forget Brandi Chastain's shirtless on-field celebration after scoring the World Cup-winning penalty shot? That perfect storm of girl power, patriotism, and chiseled abs invigorated us with a sense of monumentality, and, for a fleeting moment, put women's athletics in the limelight. Unfortunately, most of the skin-baring at the 2010 tournament in South Africa isn't quite so inspiring; we'll see if next year's Women's World Cup has more to offer us.
Photograph of Brandi Chastain by Jed Jacobsohn/Getty Images Sport.
---