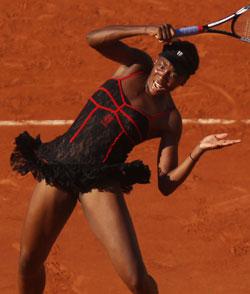 A frisson rippled through the crowd watching Venus Williams at the French Open this weekend-not because she handily beat her opponent, but because she did so wearing a lacy black and red outfit that resembled a negligee. Williams's dress had a clingy bodice and flared skirt and appeared "see-through," according to the AP. Among the photos from the match were two in which Williams's skirt blew up to reveal not her girly parts, but an artfully modest pair of flesh-colored shorts.
The Huffington Post notes that Williams's little black number was her "most talked-about on-court apparel choice" since the abbreviated yellow-green dress she wore at the Australian Open in January. That yellow dress, like the transparent-seeming black one at the French Open, led some viewers to wonder whether Williams was wearing underwear. That this question was asked about a sports star of Williams' stature seems bizarre. Of course she's wearing underwear. She's a professional athlete, people! In case anyone didn't notice, Williams is interested in the dramatic potential of her on-court appearance.
She told the AP that her look at the French Open was "about illusion," and that she brings eight to 10 outfits to each tournament. At the Australian Open, Williams wore a flesh-colored bodysuit under her dress. Yet anxiety about her possible nakedness occasioned a faux investigation by sports blog Deadspin to determine whether she had revealed her "lower shame." "Venus almost does us a favor by refusing to cross her ankles like a lady," Deadspin writes, bringing to mind a certain Supreme Court nominee who also refuses to cross her ankles, "but is unwilling to completely aid in our investigation due to a well-played towel."
The "controversy" over whether Venus Williams was wearing underwear at the Australian Open is like the controversy over Lady Gaga's penis. Maybe Williams' underwear wasn't visible from the stands, but it's totally visible in photos from the match. So is her potential nudity really risque? Or is her willingness to play with our expectations of what a sportswoman should wear risque? The non-troversy over Williams's nakedness is not unrelated to our recent conversation about Supreme Court nominee Elena Kagan's habit of sitting with her legs "ajar." Why are we so anxious about what's between a prominent woman's legs and whether we can see it? The space between a woman's legs is the screen on which our conception of modesty is projected. It matters! It makes us nervous! No one overworries male near-nudity this way.
Photograph of Venus Williams by Julian Finney/Getty Images.
---