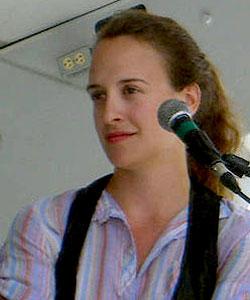 Emily Gould's memoir shouldn't have been dull. After a splashy, Joyce Maynard-ish New York Times Magzine cover story about her life as a blogger for Gawker , publishers came knocking with fistfuls of money asking for her to spill more. The piece provoked strong reactions in all who read it; she'd shown herself, both on Gawker and her personal projects, to be a punchy observer of the New York media world who had no problem dishing the most private details of her life. This should have added up to, at the very least, a page-turning read. But instead, the result, And the Heart Says Whatever , released today, has the adolescent feel of an unremarkable diary. Rather than reflect too deeply on what made her well-known as the go-to example of a certain brave new media type-that stint at Gawker in pursuit of page views, a breakup with a fellow blogger documented very publicly on a blog and in the pages of a newspaper-she tells us in most detail about her high-school hookups, waitressing in her earliest New York days (did you know waitresses sometimes drink on the job or flirt for tips?), and, when she wants to remind us that she has an edge , her totemic tattooes. Some passages feel ripped straight from YA-a pretty co-worker "looked like an ad for Neutrogena face wash." (Gould's first book was, in fact, YA.) On the more recent stuff, she's vague, open-ended-as most 28-year-olds would be.
If Gould wants to distance herself from her former employer, she could've written a fascinating captivity narrative about her time at Gawker. Or, alternately, she could have admitted that it launched her into the spotlight and wrestled with the implications of the collapsed walls between her work and personal life-something plenty of people are plenty interested in. Gould's strength is that she is sharp, in the equal-parts-funny-and-a-bit-mean sense of the word. Perhaps it's the formalness of writing something that will be bound and cataloged, but she's careful-or perhaps too careless?-to be neither funny nor mean in this book. Instead, here, as in interviews she's given about her blogging, she takes a shrugging, puzzled tone: These events washed over me, and I'm not quite sure why you're asking me about my role in them.
Gould took a lot of heat for the come-hither photos that accompanied her NYT piece and for its perceived narcissism, and so it's not surprising that she'd be gunshy. She's a bit defensive on this point, telling New York recently , " If a woman writes about herself, she's a narcissist. If a man does the same, he's describing the human condition. But people seem to evaluate your work based on how much they relate to it, so it's like, well, who's the narcissist?" But if you want to be a confessional writer nowadays, you've really gotta confess. Or if you want to write a memoir about being "young and literary" in New York, as Gould has branded her book, it's an already crowded genre, filled with women who seem to have a preternatural gift for distilling wisdom beyond what ought to be allotted them for their years. (Joan Didion's elegy about leaving the city is probably responsible for half the young women who've moved there to try writing-think Meghan Daum or Elizabeth Wurtzel or, more recently, Carlene Bauer , to name just a handful of acolytes.) But it's a hard trick to pull off, and Gould doesn't yet seem to have the necessary remove from the events to make sense of them that she might have in five or 15 years. And she sort of knows this: In that New York interview, given jointly with Daum, Gould said that the audience for her book was "[t]wenty-three-year-old girls who have Tumblr accounts"-and that maybe there weren't too many of them. That's exactly the sort of wry observation I wish she'd turned on herself more in this book.
Photograph of Emily Gould by Nightscream/Wikipedia.
---