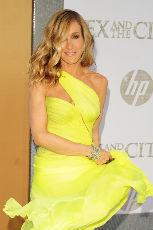 Former Slate movie critic David Edelstein, writing in this week's New York magazine, has almost complete disdain for Sex and the City 2 . He calls the film an "epic eyesore" of "nightmarish manic gaiety." He particularly loathes the work of cinematographer John Thomas, who has made Sarah Jessica Parker's skin look as leathery as possible, distracting from her $50,000 gowns. He has no praise for the way the other women appear in the film, either: "Kim Cattrall, fresh off her witty, subtle work in The Ghost Writer, is costumed to look like a cross between (late) Mae West and (dead) Bea Arthur," Edelstein writes. "Kristin Davis gets by (just) pulling little-girl faces, probably for the last time."
But if you look back at Edelstein's review of the first SATC movie , it is mostly positive . He praises Kim Catrall's "insouciant vulgarity" and Kristin Davis's "old-fashioned ditzy double-takes." He loves the outfits and the campiness. Pat Field was the costumer on both films, and I was surprised to discover that John Thomas was the cinematographer on the first film as well. It's the same cast and much of the same crew and the same spirit, so why the wildly divergent reviews?
It's possible that the second movie is just far worse than the first one, and that's why Edelstein hated it-critics at the New York Daily News and the New York Observer weren't in love with SATC 2 , but it's worth noting that Observer critic Rex Reed hated the first SATC . The Hollywood Reporter says that the second film is a big improvement over the original , which leads me to wonder if the difference for Edelstein is not the quality of the film, but the context. The culture of excess is truly out of fashion in 2010 in a way that it was not two years ago. We're still in the middle of a recession, and what seemed like insouciant, vulgar fun for Edelstein in 2008 now seems like a garish nightmare.
---