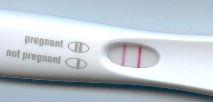 Eight years after their last report detailing the characteristics of women getting abortions, the Guttmacher Insitute has released another report tracking the same information . Most of the demographic information of women seeking abortion has remained the same-most women getting abortions are still in their 20s and 30s, and more than 60 percent are mothers already. (Contrast that with the stereotype anti-choicers trot out of young women too dumb to know what they're doing.) But one statistic changed dramatically from 2000 to 2008-the percentage of women getting abortions under the poverty line jumped 60 percent, from 27 percent of women getting abortions to 42 percent.
Why this is the case is so hard to say, but there are some probable possibilities for the leap. The most obvious answer is the economic recession. Bad times have a dramatic influence on poorer women's choices when faced with an unintended pregnancy, and that alone could explain much of the leap. A lot of it simply has to do with the fact that the lower-income classes took a battering in the last eight years, and the number of women living in poverty overall jumped 25 percent. But there is some good news that could be influencing these numbers. Abortion funds have been raising a lot more money in recent years, meaning that many impoverished women that want abortions can have them, when they wouldn't have been able to afford them before.
Of course, my mantra has always been, "The No. 1 cause of abortion is unintended pregnancy," which sounds sort of obvious, until you realize how little talk of preventing abortion centers around preventing unintended pregnancy through contraception. The rise in abortion rates among women living in poverty could owe a lot to reduced access to reliable contraception. The recession created a spike in demand at family-planning centers just as these centers had to cut services and staff. It's hard to imagine that this reduced access for poorer women hasn't resulted in many simply taking their chances, and then ending up in an abortion clinic weeks later.
The most cost-efficient, straightforward way to reduce the abortion rate in this country is to make sure that women who don't want children don't get pregnant in the first place because they didn't have the time or money that month to fill a pill prescription. Too bad Republicans have decided to make hay over this issue and attack the already meager federal spending on family-planning services.
---