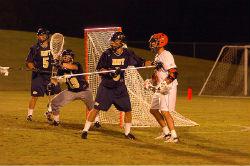 There's another major scandal involving college lacrosse players-a University of Virginia student-athlete named George Huguely has been arrested for the murder of his sometime girlfriend and fellow lax-er Yeardley Love. He maintains his innocence. We all remember in 2006 when members of the Duke lacrosse team were accused of raping a stripper. While those allegations turned out to be false, what happened with Duke's team is instructive in thinking about Huguely and the treatment of star athletes on college campuses more generally.
Certainly, the men in the Duke lacrosse case were treated terribly in the media, and we should not rush to condemn Huguely until more facts are in. However, it's worth remembering what The New Yorker writer Peter J. Boyer pointed out about the social standing of lacrosse players during the Duke scandal:
In the order of the social universe of Duke undergraduates, the lacrosse players ranked at the top of the dominance hierarchy. They tended to be the children of white, prosperous families, products of northeastern preparatory schools, where the game is a fixture; after graduation most of them go on to lucrative careers in fields like finance. They were capable, if not overly serious, students, and necessarily well-disciplined athletes. They were also known as enthusiastically social creatures, partyers of the very highest order, and prodigious drinkers, even within a culture inclined to intemperance.
George Huguely fits this profile snugly. He comes from the wealthy Washington suburb of Chevy Chase, Md., and was an All-American athlete at his prep school. According to an ABC News article , Huguely had a job lined up upon graduation at a commercial real estate firm in D.C. That New Yorker article is called "Big Men on Campus"-which is the term a fellow student used to describe Huguely, also described as a drinker with lots of friends, in the ABC article.
The implication here is that these men believe that they can get away with anything because they are so heralded in their collegiate culture. There have been other notable transgressions from star athletes and "big men on campus" in recent memory: A spate of rape allegations made against members of the football team at the University of Colorado ; an Illinois State basketball player accused of sexual assault , not to mention the bad behavior of pro-athlete Ben Roethlisberger . What's more, there is some evidence that being an athlete is positively associated with sexual aggression .
If Huguely is guilty, there will be many explanations-none satisfying-for why he killed his sometime girlfriend. From the evidence that's been released so far-Love was found in bed by her roommate and physical injuries were apparent-it sounds like domestic abuse or date rape gone horribly wrong. It's possible he's just a sociopath. But because he has no prior record, perhaps his status as "big man on campus" made him feel like he was above the law and deserved to take whatever he wanted.
---