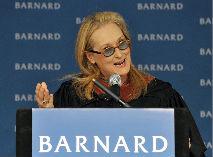 Over on Broadsheeet , Rebecca Traister draws out some highlights from Meryl Streep's poignant commencement speech at Barnard College on Monday. ( You can watch a full video of the address here .) Streep touches on everything from her own humble origins to the changing conceptions of gender, commenting that decades ago men would tell her they loved her as the sweet, affable Linda in the movie The Deer Hunter , and now men more often reap praise upon her role as the bitch-in-chief in The Devil Wears Prada . In Streep's own words:
There is probably not one of you graduates who has ever seen this film, but The Deer Hunter, it won best picture in 1978. Robert De Niro, Chris Walken, not funny at all. And I played Linda, a small town girl in a working-class background, a lovely, quiet, hapless girl, who waited for the boy she loved to come back from the war in Vietnam. Often, men my age-President Clinton, by the way, when I met him said [this]-men my age mention that character as their favorite of all the women I've played. And I have my own secret understanding of why that is, and it confirms every decision I made in high school. This is not to denigrate that girl, by the way, or the men who are drawn to her in any way, because she's still part of me, and I'm part of her. She wasn't acting, but she was just behaving in a way that cowed girls, submissive girls, beaten-up girls with very few ways out have behaved forever and still do in many worlds. Now, in a measure of how much the world has changed the character most men mention as their favorite is Miranda Priestly.
According to Streep, men's changing opinion of her best characters is emblematic of the way "men are adapting" to an evolving society where women are allowed to be powerful and aggressive. She tells the graduating Barnardians, men "are changing their deepest prejudices to accept and to regard as normal things that their fathers would have found very, very difficult and that their grandfathers would have abhorred." But of course, as true as that may be, it's probably not the reason Streep's collected more praise for her role as the fictional Anna Wintour in recent years. The actress herself, talking about The Deer Hunter , admits that "there is probably not one of you graduates who has ever seen this film," and it seems more likely the simpler explanation here is the better one: Men are commenting more on Miranda Priestly because The Deer Hunter is a 1978 film that most people haven't seen, and even more probably don't remember.
But that's OK. No one ever said a commencement address had to have the evidence of a graduate thesis. At least it's more food for thought than Alec Baldwin gave the grads of Tisch in his commencement speech that, from all accounts, sounds like it was pretty boring .
---