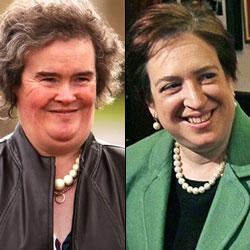 I'm not enough of a legal mind to weigh in on Elena Kagan's judicial qualifications for the Supreme Court and, well, sitting here in my home office in Gap shorts and a T-shirt, I'm probably equally unqualified to weigh in on her sartorial choices. But I have to agree with Liza that if I were subject to a thumping from Robin Givhan and others that I, too, would probably hit the nearest Nordstorm and ask for a personal stopper, stat.
I can't help but wonder, though: Are we turning Kagan into D.C.'s own Susan Boyle ? While it's nothing new to pick apart a political figure's wardrobe-we gnashed our teeth over young Hillary Clinton's headband and older Hillary Clinton's pantsuits, and let us never forget the Sarah Palin before and after -it feels different this time. Maybe it's because we expect politicians to have a certain image and hope that our more serious officials-like judges-aren't held to the same standard. Or maybe it's because we wonder if Kagan is glamming it up in response not only to the charges of frumpiness but what "frumpiness" stands for (along with "softball playing" and "unmarried").
Which is why, even though I do like Kagan's spiffy new suit and can relate to wanting to have something flattering and feminine, I half-wish she'd ignored the silliness of Givhan's critique.
Photograph of Susan Boyle by Jeff J Mitchell/Getty Images; Photograph of Elena Kagan by Mark Wilson/Getty Images.
---