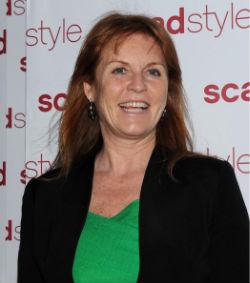 By now you've probably heard about the Duchess of York's latest embarrassment: Fergie was caught on camera by the British tabloid News of the World selling a "rich businessman" access to her ex-husband, Prince Andrew . Though Sarah Ferguson is used to abuse from the local tabs-most famously, she was dubbed the " Duchess of Pork " after she gained a great deal of weight, and before that, photos of her topless on a yacht with a man who was not her husband were published-this is the crowning humiliation.
But Fergie's greatest crime has not been her affairs nor is it the fact that she was trying to pawn her royal ex off for cold, hard cash. It's that she is chronically dim when it comes to managing her image. Unlike Princess Diana, who was a master manipulator of the press, Fergie only ever puts her foot in it in public. Diana could spin her indiscretions into publicity gold, making the English public feel sorry for her even as she admitted adultery . Fergie's affair was photographed in all its toe-sucking glory , an image that doesn't allow for much media massaging.
There's a way Fergie can turn her indiscreet behavior to her advantage. In the past, Fergie has come to America for acceptance and image resurrection. According to a New York Times article from last year, about Fergie's new role as producer of the film The Young Victoria , "If many Britons found her crass, many Americans deemed her spirited, embracing her in much the same way they would embrace another, later Sarah: as a scrappy outsider unbowed by the elites."
If Fergie books a teary, contrite interview with say, Oprah, and if she plays up her alienation, the cruelty of the tabloid media and the shabby way that she's been treated by the snooty royal family (only $20,000 a year alimony?!), there's a chance that she will find an upswell of support in the United States. Even before this latest scandal, according to some reports, Fergie was planning to go 'round Middle America for a TV show. "I want to go out and see what the needs are-and then the audience has to challenge me … to go and fix the school in Boise or get another restaurant in Allentown. … I love American people. … I don't have a house, but I live here. I am the No. 1 fan, I love Americans."
For the British, Diana was the people's princess. Perhaps for Americans, Fergie is our girl. At this point, it's the best she can hope for. Segment from the Today Show on Fergie embedded below.
Photograph of Sarah Ferguson by Jason Kempin/Getty Images.
---