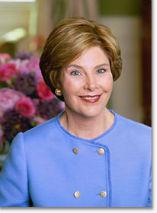 I had never thought much about Laura Bush before I read Curtis Sittenfeld's 2008 novel American Wife , which is a work of fiction that used the first lady's life as source material. To me, Bush seemed like a sweet, if somewhat plastic and simple, woman-she always wore that fake, plastered-on smile in public. But American Wife made me look at Bush differently. It made her into a real, sympathetic soul. Now that Bush is going on lots of daytime shows to promote her own memoir, Spoken from the Heart , I can't help but look at her through the lens of Sittenfeld's book, especially when it comes to Bush talking about the car accident she was in at age 17.
In 1963, Laura Bush ran a stop sign in her hometown of Midland, Texas, and killed a high school chum named Mike Douglas. As Joyce Carol Oates points out in her review of American Wife in the New York Times , for Sittenfeld's heroine (called Alice Blackwell), "[T]he death of this classmate reverberates through the novel, like a subterranean stream of repressed passion, an abiding guilt and an inconsolable sorrow." This seems to be true for Laura Bush as well-the death of Douglas has been a prominent feature of the TV interviews that Bush has done. She talked about it yesterday on Oprah . And then this morning, she told Ann Curry on the Today Show (interview embedded below), "The guilt never leaves you, no," Bush said of Douglas's death. "It taught me a difficult lesson: That tragedy happens, that you cause things to happen that you can't ever change. No matter how much you want them to change."
It's a credit to Sittenfeld's excellent novel that I can now only feel sympathy for Bush. Even when she continues to defend her husband and criticizes Obama for slamming George W. while he was running for office, she's still that well-meaning first lady that American Wife portrayed so vividly.
---