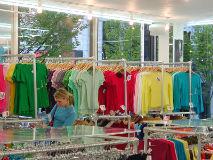 Over on Jezebel , Dodai has a fantastic rundown on the sizist attitude of hipster-uniform manufacturer American Apparel. Yesterday, when BBW erotic star April Flores ventured into an L.A. American Apparel store and asked an AA worker about the possibility of the company starting a plus-size line, she was dismissively told, "That's not our demographic."
The inches back her up on that. Even standard sizes at American Apparel are much smaller than a typical retailer's. A women's medium at American Apparel is designed to fit a waist size of 27-28 inches , while J. Crew sizes it a full two inches larger. To put the numbers in perspective: Purportedly Jessica Alba has a 27-inch waist-does she seem representative of the median size to you?
Unfortunately, this is nothing new in fashion. As Dodai writes, "The idea that thin IS fashionable has become ingrained in our minds. Often there are photographs on sites like The Sartorialist in which women are wearing incredibly simple ensembles - a white shift dress with sandals, or a black T-shirt with jeans - and the only "fashionable" element is how slender and young the subject in the image happens to be."
That said, there are a few reasons why it's so much more obnoxious when American Apparel practices sizism. For one, almost everything there is cotton-spandex with the most simply sewn seams known to man. How hard could it possibly be to create bigger sizes for bigger customers who apparently want to give you money for your totally ugly gold lamé leggings? The grossest offense, however (OK, maybe equal with CEO Dov Charney's reputed sexual harassment of employees), is that A.A. pretends to be some sort of celebrator of alternative beauty. They tout their atypical ads starring gap-toothed, tangly-haired, girl-next-door types who supposedly work at American Apparel stores across the country. And Charney cannot get enough of saying how they're "real people." (Big shocker: As it turns out, most of the women in the ads are professional models .) Apparently in the limited scope of A.A., nontraditional beauty translates to "a paid model who hasn't showered for a day." But when a real-world-beautiful woman like April Flores wants in on high-waisted, pleated skinny jeans in Greenpoint Gray (or whatever), the answer is no.
---