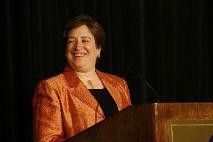 Just the fact that we're talking about which potential nominee to replace retiring Supreme Court Justice John Paul Stevens is also a "mom" is an indication that motherhood still affects the way a woman is perceived in her professional life. The "motherhood penalty" among working women is rarely questioned: The gap in wages between working mothers and nonmothers is larger than the gap between women and men; a study published in the American Journal of Sociology by researchers Shelley Correll, Stephen Benard, and In Paik in 2007 found that when considering equally qualified candidates for the same position, mothers were perceived as less competent and consistently recommended for a lower starting salary. Worse, a new study from Benard and Correll (not yet published) finds that when presented with two unambiguously qualified female candidates for the same position, one a mother, one not, women-not men-viewed the exceptionally successful mothers as less likable and as having more negative interpersonal qualities. In other words, it looks like women would rather have a drink with Elena Kagan than with Diane Wood.
In the Daily Beast, Peter Beinart argues that putting a mom on the Supreme Court (another mom-Ruth Bader Ginsberg has two children) would send a message to young women that you can achieve professionally and still have a family, a message that, in spite of politician "ubermoms" like Sarah Palin, Nancy Pelosi, and Michelle Bachmann , Beinart suggests is still drowned out by comments like that of Pennsylvania Governor Ed Rendell's about Janet Napolitano's appointment to head the Homeland Security Department: "Janet has no family. Perfect. She can devote, literally, 19 to 20 hours a day to it." We

For the record, both Wood and Kagan taught at my law school when I was a student there, and I'd happily have another drink with either-or see either put on the Supreme Court robes. But until a woman can walk into a job interview or a confirmation hearing and feel confident that no one's given more than a passing thought to her home life, I'll always be inclined to root for the potential nominee who, in that one respect, looks most like me.
---