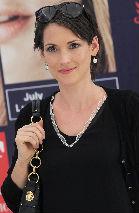 If your heart broke a little last fall when Winona Ryder appeared onscreen with her eternally young pixie face caked in aging makeup to play the bit part of Spock's mother in Star Trek , buck up: America's favorite '90s indie nymph just beat out several actresses for a starring role in an upcoming Ron Howard film, EW reports :

Sources tell EW.com that Ryder beat out a slew of other actresses in her drive to land the part of Geneva, Kevin James' wife. She auditioned twice for the part, outshining the likes of Kate Beckinsale, Carla Gugino, and Uma Thurman, who flew herself in for the audition.
EW also notes that the film is an unconventional story, centered on two best friends, one of whom finds out that his friend's wife (Ryder) has cheated on his friend. I'm not sure where the daring "unconventionality" of this story line comes in based on that description, but, let's be honest, I'd pay 12 bucks to see Ryder in a remake of Kazaam if that's what it came to. The best part of the announcement? The almost always snarky blogosphere is all atwitter with joy over Ryder's return .
---