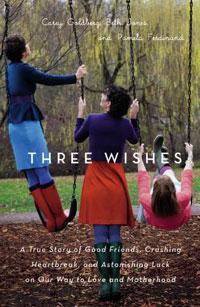 This is a guest post from Pamela Ferdinand, the co-author of the recently released memoir Three Wishes: A True Story of Good Friends, Crushing Heartbreak, and Astonishing Luck on Our Way to Love and Motherhood .
When my co-authors and I wrote our memoir about the astonishing things that happened after we decided to become fortysomething single mothers with anonymous donor sperm, everyone told us we should call it "The Lucky Sperm." We didn't. We figured, who wants to sit on the subway with the word sperm on their book cover?
Well, maybe not last year. But this year, donor sperm is all the rage. Three romantic comedies are on deck, featuring A-list stars as women who have taken motherhood into their own hands: The Switch , with Jennifer Aniston, based on Jeffrey Eugenides' somber short story for The New Yorker ; The Back-Up Plan , with Jennifer Lopez; and The Kids Are All Right , starring Julianne Moore and Annette Bening.
I should be thrilled. As a first-time author, this could be merchandising magic, right? Wrong. I can't help but be annoyed and at times infuriated by movies that could portray the true grit and modern independence of women choosing to have children on their own. And don't.
Jennifer Aniston's sperm donor falls in love with her (in the short story, the sperm donor is a married friend), and the drunken best friend who secretly substitutes his own sperm for the donor's falls for the child years later. The same day Jennifer Lopez is inseminated, she meets Stan, the man of her dreams, and their Ricky Ricardo/Lucille Ball courtship antics carry them together through the pregnancy. And even in an award-winning film about a lesbian couple inseminated by the same donor, the children track down their biological father-and one of the women gets involved with him. Seriously?
Social consciousness is a hard sell in Hollywood. There has to be a Prince Charming and a Cinderella. And while that would be nice, it's not reality. Births by unmarried women have reached an all-time high of 40 percent of the total, and women over 40 are more likely than ever to be first-time mothers. Finding the love of your life when you decide to go it alone is not a common trajectory for most of us. Nor do women who opt for single motherhood later in life-or have it imposed upon them-suddenly find Mr. Right and Mr. Ready-To-Be-a-Dad rolled into one on the way to the fertility clinic.
For me to criticize these films is a bit like the pot calling the kettle black. Soon after I committed to having a child on my own (I even had vials of donor sperm ready), I met and fell in love with a man who would become the father. But I know that my experience is the exception, not the rule.
I was prepared to be a single mother, and I would appreciate a good film with talented actresses that didn't suggest I was a failure if I did become one. Who says you have to get the man (or woman) in the end to be happy if you've decided that having a child is where your fulfillment lies? Being a strong woman and being a mother who makes liberated choices in the 21 st century should be enough of a story to tell-on the big screen, on the small screen, and in real life.
---