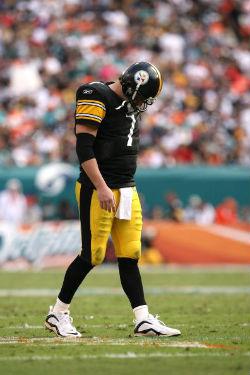 It's official: Steelers quarterback Ben Roethlisberger won't face charges stemming from an accusation that he sexually assaulted a 20-year-old woman in a Milledgeville, Ga., bar in March. The district attorney said that the claims couldn't be proved "beyond a reasonable doubt" and "the accuser and her family told authorities they did not want to press charges." The announcement, which ESPN reported over the weekend but which wasn't official until today, probably brought a sigh of relief for Roethlisberger. But let's be clear: There are no winners here. Not Roethlisberger, not the alleged victim, and certainly not victims who face skepticism and disbelief when they report sex crimes.
We don't know what happened in that nightclub restroom. But even if Roethlisberger is guilty of nothing but poor judgment and an overly developed sense of entitlement, he's still a marked man. This is the second sexual assault claim against him, and this woman could still file a civil suit. (Mind you, I feel no sympathy for him. He's either getting away with something, or he brought this on himself.) ESPN.com says that he'll be meeting with NFL commissioner Roger Goodell this week, a meeting that I predict (and hope) won't end happily for Roethlisberger. As for his accuser? What's striking to me is that she didn't withdraw the claim; she declined to press charges. Maybe the media circus got to be too much. Maybe she looked at other high-profile cases against celebrities and felt the odds were against her.
But, looking at the bigger picture, rape victims everywhere are losers here, too. After a Hofstra student falsely accused five men of raping her, Emily Bazelon and I looked at the numbers that surround such false claims of rape, and what we learned-besides the fact that there are lots of questionable studies out there-is that while false reports of rape aren't the problem that some men's rights groups would have you believe, such claims do have an effect on police and on juries. As one of our sources told us, "Every false accusation that makes it into the news makes it that much harder for the real victims to receive justice." Let me be clear: I am not suggesting this woman was accusing Roethlisberger falsely. But the result is the same: There was a report of a sex crime, there was an investigation, and no charges will result. And today or tomorrow or next week, a woman will be raped. She'll think about this incident and wonder if she'll be believed. "Well, I did have a drink with him," she'll say. Or maybe, "I did flirt with him," or "I did ask him to walk me to my car." And she'll decide that it's not worth it to speak up, that no one will believe her; and a rapist will be free to attack again.
Photograph of Ben Roethlisberger by Doug Benc/Getty Images.
---