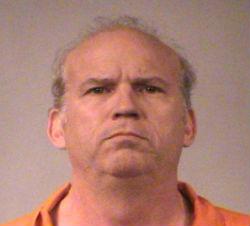 Less than a year ago, right-wing fanatic Scott Roeder walked into a church in Wichita, Kan., and shot abortion provider Dr. George Tiller dead while he provided ushering service for his Lutheran congregation. At the sentencing hearing yesterday, Tiller family friend and lawyer Lee Thompson described the murder as a hate crime, much like what was done to Matthew Shepard .  I saw it as an act of terrorism. Yesterday, that story hopefully came to a close, when Roeder was sentenced to life in prison, though he is eligible for parole in 50 years. *
The contrast between Dr. Tiller, the stubborn Midwestern doctor, and Scott Roeder, right-wing paranoid fanatic, has already been well-documented.  If you've been following the story, you won't be surprised that a circuslike atmosphere invaded the courtroom, with the defense gathering a crew of anti-choice miscreants to testify for Roeder, which was the best he could probably come up with.  Roeder was agitated and spoke out of turn.
Roeder was permitted to read a statement that amounted to a pile of paranoid ramblings about abortion.  He accused Dr. Tiller of being a murderer, causing the widow of Dr. Tiller to react visibly with anguish.  And, perhaps most stupidly, he castigated the court for convicting him and criticized the judge's ability to do his job.
Unfortunately, anti-choicers aren't deterred from having murderers in their midst. Hard-core anti-choice picketers didn't skip a beat, but instead moved right on to targeting Dr. Leroy Carhart of Kansas, who has taken up some of the hard-luck cases that Dr. Tiller specialized in, cases where women require late-term procedures because of health issues, fetal abnormalities, or some of the most mind-bendingly sad rape and incest cases you never wanted to know anything about.  For his heroism in fighting for these women, Dr. Carhart now has to live in the shadow of this murder and in daily terror for his life.
*Correction, Apr. 2, 2010: The original version of this post said that Scott Roeder was sentenced to 50 years without parole.
Photograph of Scott Roeder by Getty Images News.
---