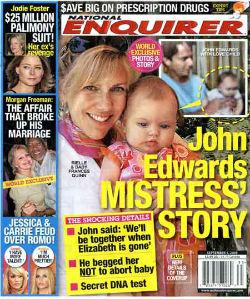 Yes, Rielle Hunter, who appeared yesterday on Oprah , is the kind of woman who drives me batty. She lives, as I've written before , as if the dictates of the supreme inner-being that lives inside her are more important than anything else, and to be a moral person, all she has to do is put her ear to her heart and listen. This spiritual amoral world view is, as Alessandra Stanley wrote , impervious to "contradiction and sarcasm." She says things like, "I'm a very private person," while she's talking about her sex tape on Oprah . She doesn't seem to regret or apologize for anything-even the sex tape-because apologies aren't necessary if you always follow your heart.
That said, this latest round of Rielle bashing seems just cruel. Comparing her to Ahmadinejad (as Stanley does)? Calling her a " borderline simpleton, fame-seeking narcissist " (from Salon 's Rebecca Traister)? I'm beginning to agree with Katie Roiphe , who pointed out in the last round of Rielle-apalooza that we were all taking too much glee in pinning the Scarlet Letter on her. How do you explain, for one, why Oprah treated John Edwards gently, asking him general questions about the affair and concluding, "You can see that this a home with love." With Rielle, on the other hand, I can barely remember a time we got Oprah that down and dirty, unless it was with James Frey or someone else who had personally crossed her.
"Not to sound like Dr. Phil," said Winfrey, "but what were you thinking?" she said about the GQ shoot in which Rielle posed on her daughter's bed with no pants on.
Then she dug in more, getting impatient. "Because you actually have to take your pants off."
Then impatience curdled to sarcasm: "What did ' Johnny ' think about those photos?"
I'm not sure there's a great gender point to make here. Our culture, is for the most part arbitrary about which person we choose to bash on in an affair. We've been relatively easy on Tiger's mistresses and hard on Tiger. Sandra Bullock's husband has been squashed. Some people take a beating, I think, because they make themselves vulnerable to it. Rielle is an easy target because she has a dumb martyr quality about her. We feel like no matter how many times we set her up, she'll fall into the trap and say, over and over, some nonsense about her heart.
---