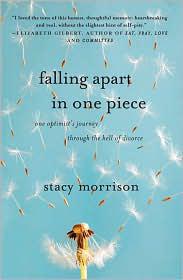 I feel like I ought to warn you: Redbook Editor in Chief Stacy Morrison's Falling Apart in One Piece may make you feel like your marriage is in trouble.
Of course, the best memoirs make you feel that their stories are happening to you. To read Elizabeth McCracken's An Exact Replica of a Figment of My Imagination is to be with her in France, trying in vain to translate the stillbirth of her first son; Heather Armstrong's It Sucked and Then I Cried pulls readers into the frantic circle of her post-partum depression; both Frances Mayes and Elizabeth Gilbert at their best can take you to happier places. But Morrison's "optimist's journey through the hell of divorce" really is, for many chapters, a journey through hell. Her insistence that she still loves her ex-husband won't stop you from feeling her fury and then some when he accuses her of selfishness on the way home from an ER visit with their young son. Or when he tells her, after they come back from a weekend getaway she put together in a last-ditch attempt to save the marriage, that he's still with her only because he needs to save up some money to move out. At these moments, Morrison's is a memoir in the Jenny Sanford vein-as Hanna said of Staying True , the tone is studiously not vengeful, and yet the book is an act of revenge.
That said, I never doubted that Morrison's real goal was to share what she'd learned. A little revenge along the way was inevitable (and maybe a bonus), but it's her enormous skill at sharing the moments when things were as bad as they would get (the moments when anyone interrupting your reading is likely to get a full dose of Morrison's well-channeled anger) that enables Morrison to give a simple message of survival such resonance.  Each and every small lesson taken-that her anger had more power over her than it did over her ex-husband, that it was important to focus on the small good things-builds up into her final feeling that, in the end, she's more than survived-she's won. The best memoirs pull you in, but they also bring you back out-and leave you better off.
Morrison's book, like her magazine, is readable and relatable. Her job is a glamorous one, but a real one, with deadlines and difficult bosses and a very important paycheck, and it becomes the one thing that sustains her when her family and home are falling apart. Most memoirists can't write about the power of day-to-day office life because so few of them have actual jobs -they're writers, and their work takes a different form. Morrison's reliance on work for her identity and financial survival keeps her emotional journey firmly rooted in a real world most readers know well. It's a guidebook for a trip no one wants to take, but everyone wants to feel they could survive. Falling Apart succeeds because Morrison puts it all out there, and then pulls it all back in, and convinces her readers that an optimist (who could be anybody) can get through anything.
---