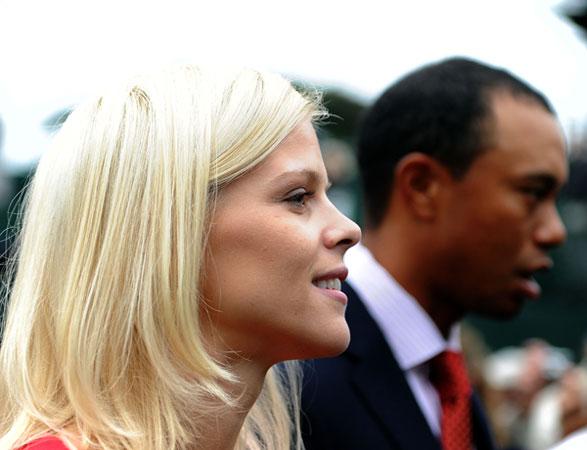 Pundits are speculating about whether Tiger Woods' wife, Elin, will be in the crowd when he returns to golf at the Masters in Augusta, Ga., in three weeks. There was similar chatter last month when Tiger held a press conference to apologize for his numerous affairs. Elin was not in the audience for that one, though Tiger's mom was . On the Today Show this morning, former Us Weekly editor Janice Min argued that Elin's appearance at the Masters-if not at the event, at least discreetly supporting Tiger down in Georgia-is pivotal for Tiger's image rehabilitation. "If the wife can forgive, then America can forgive," Janice said. "If they can think that he is able to convince this wronged woman that he is a different person," then he can also convince the public.
I disagree with Min entirely. As I said in the run-up to Tiger's presser in February , most big golf fans don't give a fig about Tiger's affairs. They only care about his performance on the course. People who cared about Tiger's manicured family-man image-especially women-will never look at him the same way. And it doesn't matter, since those enthralled with Tiger the product probably never cared much about his golf game in the first place.
The Daily News ' Mike Lupica was also on the Today Show this morning discussing Tiger's comeback. Like me, Lupica doesn't think it matters if Elin is by Tiger's side at the Masters. It only matters if Tiger wins, Lupica said on the show and in his column : "If he wins as big as he did before, he will be big all over again." But Lupica fears that again the public will be blinded by Tiger's skill, and they'll "confuse athletic character with real character, the way we have in sports since the beginning of time." This is probably true in the case of Tiger's core fan base. As Min points out in the clip below, in his first public appearance after he was accused of rape, Kobe Bryant got a standing ovation.
Photograph of Elin and Tiger Woods by Harry How/Getty Images.
---