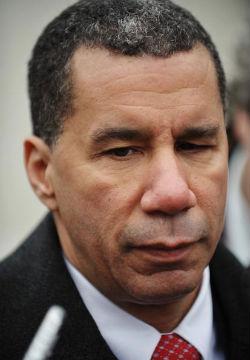 KJ, speaking of justice in the Paterson scandal , I wanted to call attention to the morality of Denise O'Donnell , Paterson's deputy secretary for public safety. When O'Donnell heard that Paterson might have some role in covering up the domestic violence of his aide, David W. Johnson, she resigned immediately. On Thursday afternoon, according to the New York Times , O'Donnell released the following written statement : "The behavior alleged here is the antithesis of what many of us have spent our entire careers working to build … a legal system that protects victims of domestic violence and brings offenders to justice. "
O'Donnell's principled resignation seems to have been a bit lost in discussion of this mess, but her commendable action deserves to be called out.
Photograph of David Paterson by Mandel Ngan/AFP.
---