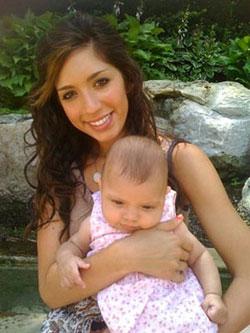 When I wrote about the MTV reality show 16 and Pregnant and its spinoff Teen Mom earlier this year, I wondered whether the young women on that show had really considered what it meant to put their personal lives out there for consumption. These new moms are being treated as public figures during a vulnerable period of their lives, and nothing proves this more than this headline from TMZ today:"' Teen Mom'$2 911 Call - My Mom Hit Me in the Face ." 16 and Pregnant and Teen Mom star Farrah Abraham was portrayed as having a volatile relationship with her mother on both these shows, and now viewers know the extent of Farrah's domestic drama outside the confines of the program.
This isn't the first time TMZ has written about Farrah's domestic-violence incident. It reported on the incident back in January when Farrah's mom was initially arrested for choking her. Now TMZ has obtained the 911 call, a completely unnecessary move, in my mind, considering Farrah's meager level of fame. Just goes to show that once you open the box on notoriety-even if you put yourself out there to educate other teens about pregnancy-it's impossible to get your private life back.
Photograph of Farrah Abraham from 16 and Pregnant (c) 2009 MTV Productions.
---