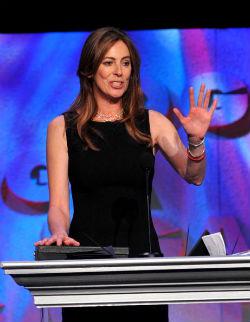 Today the BBC is wondering if Kathryn Bigelow's Oscar win for The Hurt Locker will mean more female movie directors overall . The article cites this depressing statistic: "Out of the top 250 grossing films of 2009 in the US, women only directed about 7 percent of them," which is down from 9 percent in 2008. The reason for the absence of women directing major motion pictures seems to be a complex combination of deeply entrenched institutional sexism and women self-selecting away from the profession. The BBC article quotes a film-festival director named Amy Mole, who says of directing, " 'There's little job security, erratic scheduling, it's unstable, there are frequent long location shoots … So if you want to think about child-rearing, it's not that compatible.' " If you look at the women who have been nominated for Oscars, none of them had children when their movies were made. (Sofia Coppola and Jane Campion both had children shortly after their nominated movies were finished; Lina Wertmuller adopted a daughter long after her nomination; Kathryn Bigelow is childless.)
This reminds me of the article that DoubleX contributor Mimi Swartz wrote for the Daily Beast last year , about how the Obama administration is dominated by women who are empty nesters. Commenting on that piece for the XX Factor , Liza Mundy wrote, "This wasn't supposed to be an administration dominated by female empty nesters. It was supposed to be a family-friendly administration where it was possible to be a working parent and actually parent." Is there a point at which we must admit that some jobs just aren't compatible with having young children?
Photograph of Kathryn Bigelow by Alberto E. Rodriguez/Getty Images Entertainment.
---