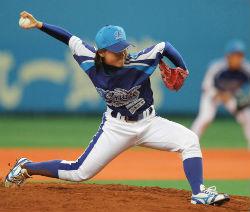 Eri Yoshida, 18 and the first woman to play professional baseball in Japan, took her impressive knuckleball to the United States this winter, playing in the Arizona Winter League. Her goal: to snag a contract with an independent league on this side of the Pacific for the summer and become the first woman to play pro in the United States. Sure, the league's a far cry from the majors, but considering that Yoshida is 5'1" and 114 lbs., has never had formal training and is, well, not a guy, it's still pretty impressive.
As a woman looking to make it in a man's game, the knuckleball was the perfect pitch for Yoshida to take on. Instead of relying on strength and speed, the knuckleball depends on the pitcher's ability to release the ball so it moves in an unpredictable way. Yoshida actually pitches with a side-arm movement, setting the ball on a path to change direction mid-flight, hopefully tripping up the batter.
Simple biology dictates that a woman at the top her game would not be able to throw a fastball at the same speed as a man at the top of his. It's not anti-feminist-it's just a matter of muscle mass. The fastest male marathoners are faster than the top female marathoners. The top tennis players can sure slam the ball across the net, but not at the speed of the top male tennis players. But the knuckleball is different. It's a skill pitch. A trick. A weapon many of the best players in the pros don't have in their arsenal. Last week, the Boston Red Sox's Tim Wakefield-the current king of the knuckleball-watched Yoshida pitch at the Sox's player development league and told journalists he was impressed. (Yoshida says she taught herself the pitching style by watching tapes of Wakefield.)
So will Yoshida, like her idol Wakefield, suit up for the majors one day? Don't count on it. As thrilling as it would be to see a woman take the field in the big leagues, the chances are pretty slim.
Photograph of Eri Yoshida by STR/AFP.
---