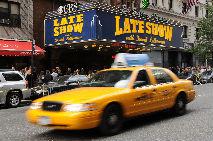 This month's Vanity Fair has a thorough article about the David Letterman blackmail scandal. To recap, the married Letterman was having an affair with one of his staffers, Stephanie Birkitt, who was dating 48 Hours Mystery producer Joe Halderman. Halderman found out about Birkitt's affair with Letterman and attempted to blackmail him last fall. Letterman then confessed to the affair on-air in a long-winded anti-joke . In the immediate aftermath, there was some discussion about whether Letterman's behavior-he had a reputation for having sex with underlings-created an environment of sexual favoritism in which only women he slept with got ahead.
The Vanity Fair article doesn't definitively answer whether or not the Late Show With David Letterman is a sexist environment, though writer Mark Seal does note that the only people who would speak to him on record were Letterman's male employees:"The women usually speak only under the cloak of anonymity, or through intermediaries, perhaps for fear of retribution." What Seal's article does definitively prove is an old cliche-sucessful comedians are lousy partners:
Letterman is, by his own admission, one of the most unhappy, insecure, guilt-ridden, self-loathing, self-pitying people on the planet. All of this informs his choices, especially when it comes to women. "He favors unadorned women and at the same time women who are at the reach of his demonically low self-esteem," says one veteran Letterman observer.
---