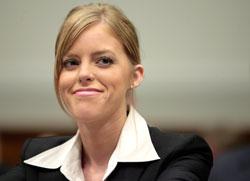 Halliburton/KBR yesterday dropped its Supreme Court appeal seeking to block the lawsuit filed by Jamie Leigh Jones , the former military contractor who alleges that she was raped by co-workers in Iraq in 2005. Jones had signed a mandatory arbitration clause, and so Halliburton wanted her to settle the rape dispute through arbitration-a process that would be more favorable to them. But the Fifth Circuit agreed with Jones that some of her claims could be litigated in a civil court, because, as it reasoned, the rape was in no way connected to her employment.
This past winter Al Franken shepherded through some new federal legislation that withholds defense contracts from companies that "restrict their employees from taking workplace sexual assault, battery and discrimination cases to court." Senate Republicans went bonkers. And Haliburton tried to block the Jones lawsuit claiming that the new legislation didn't impact on the appeal. Weirdly, Halliburton said yesterday that it withdrew the appeal to avoid the risk of violating the law it called "very broad and vague ."
Jones will still have to endure a difficult assault trial. A trial date has been set for May of 2011. The fact that this is the good news shows just how screwy Halliburton's efforts to keep her out of court really were.
Photograph of Jamie Leigh Jones by Chip Somodevilla/Getty Images.
---