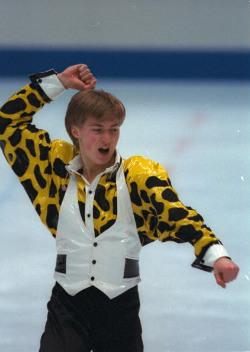 The default assumption about the American male figure skater is that he is gay. No matter that he probably exhibits none of skater Johnny Weir's famous flamboyance , which will be displayed prominently this evening at the Winter Olympics opening ceremony, or that he may still wear a ring given to him by his ex-girlfriend, as reigning world champion Evan Lysacek admitted to doing in New York magazine . The assumption persists.
Compare that with the image of Russian heartthrob Ilia Kulik, who won the gold medal at the 1998 Olympics in Nagano. Tall, blond, and boyishly good looking, soon after his win he was named to People's annual list of the 50 most beautiful people . He dated a Russian actress. He welcomed frequent comparisons to Leonardo DiCaprio. Numerous fansites emerged featuring breathless comments from female admirers. Kulik went on to court and marry the glamorous skater Ekaterina Gordeeva, whose figure skating partner and husband had died suddenly and tragically in 1995. He did all this after proudly donning a bright yellow and black giraffe print shirt under a white and black tuxedo vest for his moment of Olympic glory.
Kulik isn't the only Russian skater to set hearts thumping. 2002 champion Alexei Yagudin and Vancouver contender Evgeni Plushenko are thought of as similarly dreamy. "Figure skating in Russia is not considered a feminine sport whatsoever," says Mauro Bruni, a former U.S. national competitor who has performed in Russia. "Actually, it is revered, and Russian figure skating champions, men and women alike, become sports heroes." One explanation for why being a male figure skater is so much more acceptable in Russian culture could be that Kulik and his countrymen did not select their own vocation under the Soviet regime. If they exhibited talent, they were plucked from the masses for intensive training in a figure skating machine that was exceedingly well funded by the state. It's hard to stigmatize a guy who was more or less forced into his position. Though that old system crumbled along with the Berlin Wall and communism, but the idea of skating as a masculine activity stuck.
In the United States, though, children generally choose their activities. A little boy would typically have to express a personal inclination toward the elegance, athleticism, and solitude that define figure skating before his parents would sign him up for lessons. Gay or not, these boys possess the very traits that fall beyond the narrowly defined American definition of acceptable masculinity.
Photograph of Ilia Kulik by Mike Powell/Getty Images.
---