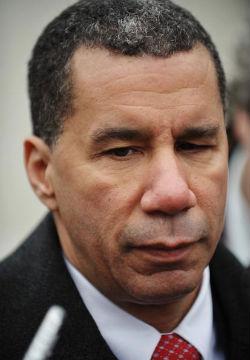 There's a lot that's still unanswered about the allegations that New York Governor David Paterson might have used his state police detail and his own influence to protect his friend and aide from domestic violence accusations. At the top of my list, as a former domestic-violence prosecutor, is this: What happened to that second-degree harassment charge the Bronx police are said to have written up against David W. Johnson, who'd left the home he shared with his then-girlfriend before police arrived? The New York Times reported that because the charge wasn't a felony, it wasn't referred to detectives for further investigation-but that doesn't mean it went away.
Paterson is sunk , but his aide, David W. Johnson, should be waiting for the other shoe to drop. Johnson's accuser later appeared several times in family court, seeking an order of protection against Johnson-but New York's mandatory arrest policy in domestic cases means there should have been criminal-court action. The eventual dismissal of her request in family court (apparently besides the visit from the state police and the alleged phone call with the governor, she'd been unable to serve her order of protection against Johnson, which would have required the cooperation of the NYPD or Johnson's attorney) would have no effect on a criminal case.
As a practical matter, Johnson's accuser is probably safe now-it seems unlikely she'll be needing that order of protection. But her accusations against Johnson-that he choked her, stripped her of a Halloween costume he objected to, smashed her against a dresser, and prevented her from calling for help-should be answered. To do anything else tells victims of domestic violence that what most of them have secretly suspected has been right all along: It's not about justice, it's about expediency. If you're not an emergency, you're on your own.
Photograph of David Paterson by Mandel Ngan/AFP.
---