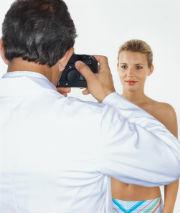 If you are young, ambitious, and possessed of a pair of breasts, Italy is evidently a very confusing place to live. On Monday Italian health undersecretary Francesca Martini sent a bill to parliament that would make it illegal for minors to get breast implants . In 2009, La Reppublica reported a survey finding that 14 percent of 16- and 17-year-old girls in Italy are worried about the size of their breasts , and Martini says the number of minors having breast-augmentation surgery, sometimes performed by uncertified practitioners, has increased.
Unless you believe the government should have no say in how parents raise their children, the legislation sounds like a responsible move in a country famous for objectifying women . The problem with the breast augmentation ban is that it targets the young women seeking breast enlargement, not the cultural circumstances that make a 16-year-old girl want to go under the knife.
Thanks to Italian prime minister Silvio Berlusconi, who made his fortune through his media mega-corp Mediaset, the outrageously buxom spokesmodel, or velina, is a fixture of Italian prime time. Turn on the tube in Italy and breasts are everywhere, especially on sports shows and game shows (in addition to the host's pert mammary equipment, this one also relies on tutus and line-dancing for appeal). On the Internet, of course, it's even worse. According to Google translator, this is an Internet-only commercial for washing machines [NSFW].
But it's not just the promise of attention, money, and B-list celebrity that lures young Italian women to get boob jobs. As Carla Power wrote in Time last November, Berlusconi has turned fielding former showgirls as candidates for government office into a major political strategy, a tactic that has come under criticism , but thus far has won his party plenty of seats. That's convincing evidence that, in Italy, a great rack helps propel a political career, and perhaps give you an advantage in other highly competitive fields. As though to underscore the point, Mediaset is producing an Italian version of the Colombian telenovela Sin Tetas No Hay Paraiso ("Without Breasts There Is No Paradise") about a young woman determined to get breast implants as a way to lift herself out of poverty.
What's really scary is that this whole pull-yourself-up-by-your-bra-straps message could be construed as some warped brand of feminism. In the United States, the rare glimpse of a politician's cleavage becomes a national issue (and puppet cleavage provokes outright censorship). Italy, on the other hand, elects women whose female parts are out front-and-center. Finally, a country that allows openly sexual women to legislate! And who's to say that a "showgirl" doesn't have the brains to run a government? Several of those former beauty queens and exotic dancers were successful businesswomen before Team Berlusconi recruited them.

The problem with this argument, of course, is that the success of Berlusconi's elect-a-babe campaign also tells young women that you have to have a certain cup size to even enter the political fray, and that your mind alone won't get you far.
There is movement afoot to undermine the objectification of women in the Italian media and the political sphere. Italian businesswoman Lorella Zanardo produced the documentary Il Corpo delle Donne ("Women's Bodies") highlighting the objectification of women on TV. Even female members of Berlusconi's inner circle have decried the amount of female flesh bared on primetime. Quite possibly, women whose career trajectory involved sexual favors or plastic surgery resent feeling those measures necessary. And now there's the breast-augmentation ban for girls.
But all of this has got to smack of hypocrisy to the young, ambitious, A-cup, Italian woman. How fair is it that she is banned from having a surgery that, grotesquely enough, is a proven method of getting ahead in Italy, especially when it was available to the female politicians currently in office when they were launching their careers? It's distantly parallel to forbidding athletes performance-enhancing drugs. There's obviously more dignity in succeeding with what you've got, but try explaining that to young women newly denied that extra boost-or, rather, bust.
---