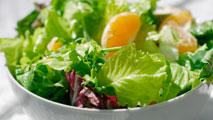 Consumer Reports reports that it found "bacteria that are common indicators of fecal contamination" in 39 percent of a small sample of greens purchased in New York area stores. Some of the coliforms (and enterococcus, found in a smaller percentage of packages) can cause nausea and other "gastro-intestinal symptoms." Their effects depend both on the type of bacteria present, which varies, and on your own immune system. As with most food-borne illnesses, pregnant women, children, and people with compromised immunity are most at risk. CR didn't find any of the biggies (E. coli O157:H7, listeria, or salmonella), but what they did find suggests that you shouldn't rely on those "pre-washed" and "triple-washed" promises. The more deadly bacteria are simply rarer than what CR did find. The presence of such high levels of any undesirable bacteria suggests failures in the green-cleaning machine somewhere along the line.
Three years after a major outbreak of E. coli O157:H7, pre-sale testing of salad greens for contamination is still purely voluntary . Produce safety remains one of the many areas where the FDA is hampered by being largely toothless-it can encourage, but rarely enforce, many safety initiatives that seem obvious. S. 510, the Food Safety Modernization Bill , would help, but looks to be on a busy Senate's back burner. Meanwhile, I'd tell you what to do about the salad greens, if I knew-but one source ( CR ) says to wash them again, and the other (ABC News) says don't. I guess we're left with either cook them, don't eat them, or try to forget you ever even saw this story. Just think of this as yet another reminder of the true golden rule of food safety-worth keeping in mind whether you're eating at McDonalds or Nobu-nobody cares as much about what you put in your mouth as you.
Photograph of salad by Photodisc/Getty Images.
---