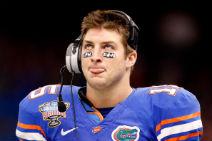 After all the sturm und drang over the Focus on the Family-sponsored Tim Tebow ad, it was inevitable that some people would find the ad itself underwhelming . If you had no idea what the underlying story of the ad is, you would think that the Tebows spent a ton of money to explain that the Florida Gators quarterback has a mother who finds him loveable, a message that is a tad obvious even in these dark times. Trying to put myself in the shoes of someone who hasn't seen the ad, the most I could come away with was, "Are they trying to taunt the motherless?" It was heartening to see Focus on the Family flush millions of dollars down the toilet for an eminently forgettable spot. Half the audience probably thought Tim and Pam Tebow met on eHarmony.
Of course, those of us who knew about the ad ahead of time took the time to watch it carefully, and I could tell what they were trying to do. The theme seemed to be, "Sure, we're openly campaiging for an abortion ban that would dramatically escalate the maternal mortality and injury rate through both illegal, unsafe abortions and by forcing women undergoing deadly pregnancies that doctors believe will kill them, but look, we grin really hard, so you know we can't be that bad!" Attempts to put a smiling face on a misogynist ideology has been the anti-choice trend for a couple of years now, but as usual, they don't control their message as well as they think they do.
The ad shows Pam Tebow telling a detail-free story about how she almost lost Tim during her pregnancy (they decided to eliminate the part of her usual story on this where she almost died), and while bragging that her family is "tough," she gets tackled by Tim in a CGI-constructed way that makes it look like a real football tackle. Then, snuggles. Two unwittingly nasty aspects of the ad jumped out at those of us at Casa del Marcotte: the blindside tackle and the bragging about toughness. In an ad designed to send the message that Focus on the Family doesn't hate women, it seems a little thoughtless to show a man run over his own mother while she's trying to talk. What would have been a bit of harmless-seeming tomfoolery in a more mundane ad took on ominous tones because it served as a visual representation of Pam's story of how she was nearly killed bringing Tim into this world.
If anything, the bragging was even more upsetting. When you argue that you survived a harrowing pregnancy because you're "tough," you imply that other women who die under similar circumstances were too weak to deserve to survive. It's already bad enough that the religious right shames women who choose abortion for choosing their education, careers, relationships, already existing children, or their own lives over the obligation to have another baby. But shaming women for being weak who die trying to fill the mandate (or who are deprived of the choice) to bear children at all costs? That's dark indeed, no matter how glowingly white the background of the ad is.
Photograph of Tim Tebow by Kevin C. Cox/Getty Images.
---