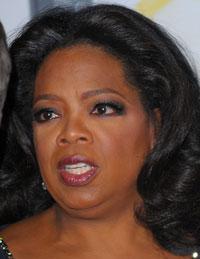 Everyone knows that an appearance on Oprah is a golden ticket to a best-selling book, a successful clothing line, or a huge elevation of your personal brand. In her last full year as a talk-show hostess ( Oprah's retiring in 2011 ) her influential guests' missteps are becoming ever more dangerous-their advice has cost people their lives. This week has been a particularly bad one for Oprah, as two high-profile guests have been discredited: Jenny McCarthy and motivational speaker James Arthur Ray. McCarthy is an advocate who believes that vaccines played a role in causing her son's autism , and just a few days ago the only research that showed that vaccines and autism were linked was completely discredited . Who knows how many people have not vaccinated their children and potentially caused a resurgence of disease because of McCarthy's misinformation? Today, news broke that James Arthur Ray, a "guru" who appeared on Oprah in conjunction with the self-help book The Secret , has been charged with manslaughter for the deaths of three people who suffocated in a sweat-lodge ceremony Ray led last year .
But McCarthy and Ray are only the latest in a string of frauds Oprah has allowed to grace her stage. Just last year, Newsweek had a huge expose of the medical advice Oprah 's guests have peddled. The magazine mentioned McCarthy , but also the insane health-releated rantings of former Three's Company star Suzanne Somers. Then there are the Oprah-championed authors who turned out to be liars: rehab fabulist James Frey and Holocaust memoir faker Herman Rosenblat . Oprah's been on for more than 20 years at this point, so it's not surprising that a small minority of her guests would turn out to be less than savory. But because she is so massively influential, it's good that these high-profile snafus are getting a lot of press. For the armies of women out there who rightfully adore the impressive Winfrey, this is a great reminder that even the big O is fallible.
Photograph of Oprah Winfrey by Jason Merritt/Getty Images.
---