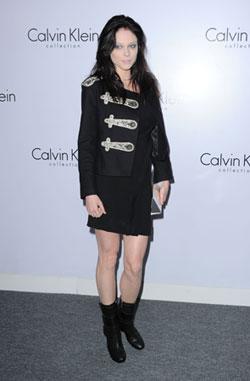 It's fashion week in New York, and the bimonthly news articles about models and their weight are back in the papers. There are articles in the New York Times and the New York Daily News about Canadian model Coco Rocha, who is a whopping size 4. Rocha-still an incredibly successful model, mind you-is no longer in demand on the runway, according to the Times , because she doesn't fit the absurdly small sample-sizes . The dek of the article in the Times sets up an anonymous straw man who believes Rocha to be fat: "Many consider Coco Rocha a veritable behemoth in a business that makes a fetish of being rail thin." The Daily News mentions a panel about models and weight that the Council of Fashion Designers of America hosted to talk about the super-skinny-model problem (for a full rundown of that panel, check out Jenna Sauer's great account at Jezebel ).
The over-thinness of runway models is still a problem. This is undeniable. But the amount of broken-record coverage this issue continues to get is ridiculous. (Check out this NYT headline from 2006: " When Is Thin Too Thin ?" Aparently no one has figured it out yet.) One point that is always mentioned is the impact size-0 models have on American teen girls. Sauers points out that the much bigger and more upsetting problem with very skinny runway models is not that a woman like Rocha is not getting work or that American teens have body-image issues. It's that very young teenagers from poor countries are being exploited. Sauers describes a "Ukrainian teenager who is living out of a suitcase in a model apartment and falling by the day into ever more significant debt to an agency that could theoretically drop her at any moment."
Sauers does a great job in general of deconstructing the more glamorous elements of the industry, and perhaps a more useful approach in solving the too-skinny model problem would be to stop behaving as if modeling were a realistic or healthy aspiration for the vast, vast majority of young women. Today's Times article hints at this absurdity. Guy Trebay writes:
Ms. Rocha is a model. Who isn't nowadays? It used to be that kids wanted to grow up to be astronauts, police officers or doctors. Now it would appear that modeling is the career default of anybody who doesn't have two heads.
For this, I blame Tyra .
Photograph of Coco Rocha by Frazer Harrison/Getty Images.
---