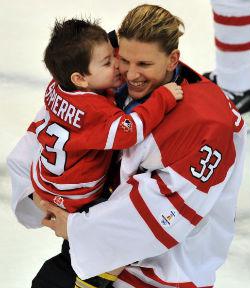 For two weeks every two years, women athletes get top billing in prime time during the female-friendly TV coverage of the Olympic Games. Sometimes those athletes are cute pixies showing off their flexibility and fearlessness on ice or gymnastics apparatus, but sometimes they're big-thighed speed skaters, dominating downhill racers, or steel-kneed moguls skiers. And sometimes they're team players. Earlier today, a friend in Toronto described her awed surprise at seeing her 7-year-old daughter shed tears of joy when the Canadian women won hockey gold Thursday night.
But on Thursday morning, IOC President Jacques Rogge hinted that future 7-year-olds might have to find their inspiration elsewhere if other national hockey teams don't improve their skills enough to give the North Americans some competition. Rogge insisted, "I would personally give them more time to grow, but there must be a period of improvement. We cannot continue without improvement."
The Vancouver Sun summarized the challenges to improving women's hockey in Europe and beyond-they need funding and better coaching, and the players need a reason to devote time, effort, and money to the game. There'd be far less incentive without the Olympics to shoot for. If women's hockey is dropped from the Olympics, it would be another blow for team sports-remember, softball was dropped from the Summer Games after 2008.
Seeing the Canadian women celebrate their victory last night, I caught a glimpse of Hayley Wickenheiser , the Great One of the DoubleX set. She has four hockey medals, played on the Canadian Olympic softball team in 2000, and she's also a mom, which came to mind when I read Anna-Liza Kozma's piece on the CBC Web site about the lack of day-care facilities for Olympic athletes who happen to be parents. The organizers didn't provide any child care in Vancouver, but a motivated woman named Jane Roos set about lining up donations of space and staff. The "athletes' house" she set up became a place for Olympians' families to hang out. It sounds like a fantastic idea; it's just too bad it didn't come from the Vancouver Organizing Committee.
Photograph of Canadian goalkeeper Kim St-Pierre by Cris Bouroncle/AFP.
---