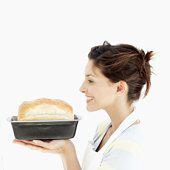 The New York Times is on a DIY bread kick again. Mark Bittman's 2006 article on the miracle of no-knead bread and a 2008 follow-up piece both spent weeks on the Times ' most-emailed list, generating reams of enthusiastic comments and suggestions. This week the paper of record published not one but two articles on baking your own bread: "Better Bread With Less Kneading" and a recipe for Golden Whole Wheat Bread from the newly updated Amy's Bread bakery cookbook .

The question that occurred to me reading every one of these pieces is how anyone trying to succeed in New York or a similarly pricey and competitive cosmopolis finds the time or reason to engage in elaborate culinary exercises like bread making. Perhaps these articles are geared to a middle-aged, upper-middle-class demographic secure in their careers with some leisure time to spare. But the Times articles also validate the idea currently floating in the zeitgeist that while building our actual careers, we under-35-year-olds should also be joyously training ourselves in the art of fresh-market-simple-slow-nouveau soul-food preparation. Think of the multitudinous cook-offs , the astonishing amount of cookware urban twenty-something engaged couples receive as shower and wedding gifts, the "young artisanal food scene," or Noteatingoutinny.com. The overall implication is that if you stock your freezer with Trader Joe's frozen entrees, or worse, anything non-organic, if you aren't making your friends buttercream-frosted birthday cakes or whipping up truffle frittatas, you do not live "seasonally, locally, sustainably, cost-efficiently and healthily" ; you are immature and possibly lazy; and the worst of all possible Gen Y fates, you are NOT WELL-ROUNDED.

The truth is that unless you are a chef by profession or truly love cooking, spending a minimum of seven hours a week in the kitchen-and that's just making dinner-is not the best use of an ambitious youngish person's time. Wouldn't the energy we expend making the meatloaf our mothers never did, or feeling guilty that we don't, be better spent connecting with peers, putting in extra hours at work, or pursuing personal projects? If you want an Amy's loaf, get it from Amy's . Otherwise buy a sleeve of Nature's Own, and leave the no-need bread for retirement.
Photograph of woman by Stockbyte/Getty Images.
---