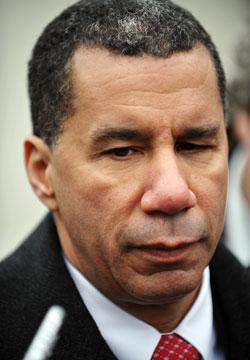 For weeks the New York-based blogosphere has been talking about a possible bombshell the New York Times would reveal about Gov. David Paterson. Everyone thought it was an embarrassing affair of the Sanford variety involving "snuggling," but, in fact, the scandal is much more sinister: It's about a domestic-abuse case involving Paterson's aide David W. Johnson . According to the Times , the 6'7" Johnson had been living with a Bronx woman and her son for about four years when, this past Halloween, he allegedly "choked her, stripped her of much of her clothing, smashed her against a mirrored dresser and taken two telephones from her to prevent her from calling for help, according to police records." She filed charges and requested a protective order against Johnson in the aftermath, and subsequently the woman went to court twice to complain that she was bullied by members of Paterson's police detail who wanted her to drop those charges. After that, Paterson got involved, the Times reports:
[J]ust before she was due to return to court to seek a final protective order, the woman got a phone call from the governor, according to her lawyer. She failed to appear for her next hearing on Feb. 8, and as a result her case was dismissed.
For his part, Paterson says the woman initiated the phone call. He also says that there will be an investigation of state police impropriety. Johnson has been suspended without pay. But the Times also notes that Johnson has a history of violence that Paterson has overlooked: "Mr. Johnson has had three known altercations with women, according to interviews with the women and the governor. Two of them involved the police, and one required the intervention of Mr. Paterson's chief of staff at the time." If it turns out that Paterson did play a part in getting this woman to stay away from court, he will make hiking the Appalachian Trail look like a walk in the park.
Photograph of David Paterson by Mandel Ngan/AFP/Getty Images.
---