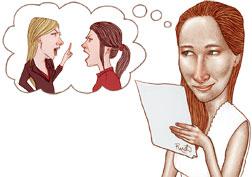 Dear Friend or Foe,
I'm kind of a geeky person and have never had many friends. When I graduated from college, I moved in with a female roommate who monopolized my social life. Eventually we both moved on to romantic relationships without any drama. But she suddenly manufactured a huge fight, and we stopped speaking. Then I married, became involved in my husband's church, and made friends there. After I divorced, the church took the attitude that "nice women don't do that." My husband, who had never even attended regularly, was suddenly invited to eat Thanksgiving dinner with the minister, while I was informed that all my committees no longer needed so much help. My church friends were all too busy to see me, too.
Thankfully I developed another close friendship with a geeky lady—"Meryl"—with whom I share interests. Lately, however, she has taken off into the far, far right-wing of politics. She suddenly says things like, "All environmentalists are Communists." She's joined the Tea Party, but she's right-wing even for them. Sometimes she scares me. I've tried to talk to her, but she either shouts at me or runs off and cries. Her husband doesn't help at all—he's actually pleased by her political fervor. I really don't want to socialize with her anymore, though I still hold out hope that she'll become sane again someday.
Is this just how friendships go? Meryl meant a lot to me. And I'm still scarred by my church's abandonment. Am I missing something about myself? Is there a pattern I don't see?
Sincerely,
Feeling Stuck and Abandoned in the Middle of the Road
Dear FSAAITMOTR,
You may have interests in common with Meryl, but it sounds as if your mental-health profiles could not be more different. You sound like an extremely level-headed woman, whereas your friend Meryl sounds, if you'll forgive me, a tad bonkers. (She yells and cries when you disagree with her politics?) I'll hold off passing judgment on her opinions about Communists and environmentalists. The point is that you two simply may simply have more crazy in your friendship than glue.
As for the other vanishing acts, let's break it down. Regarding the female roommate with whom you lived after college, it's not surprising for people to grow apart in their early 20s. (I'd say it's the rule rather than the exception.) I was far more shocked to hear that your church buddies abandoned you after your divorce. It was one moment in your life when you needed them most, and they disappeared. Not very Christian of them, and definitely not your fault. Last I checked, breaking up with one's husband did not fall in the same criminal category as selling drugs to minors.
You say you don't make friends easily, and I sympathize. Even so, the next time you're feeling pals-y wals-y, make extra sure that you and New Friend share, if not like-minded politics, then at least similar values. In my book, that means sticking by a friend both during and after a divorce and regardless of her decision to recycle milk cartons and plastic bags.
Sincerely,
Friend or Foe
Dear Friend or Foe,
Shouldn't there be a statute of limitations as to how long it takes to get over being dropped by a friend? I'm embarrassed to tell you how it still riles me—and how I'm still puzzled and hurt—by the loss of a high school friendship nearly 40 years ago! We attended a small, private high school, and the combination of sharp intellects and creative spirits in close quarters led to a lot of spectacular clashes. When I read the annual alumni magazine recently to see how my friends from that time have fared, I still feel the loss of "Trish," who simply left me behind.
An attempt to reconnect two decades back with a warm birthday message earned no response, which was a response in itself. A brief conversation at a school reunion ended with her saying, "My mother would love to see you!" I don't owe her money. Didn't steal her boyfriend. Didn't commit any faux pas other than wanting to be her friend after she had already moved on. All of which lead me to the conclusion that Trish dumped me not for a specific reason, but just for being myself. That still hurts. How do I move on?
Sincerely,
Can't Get Over the Past
Dear CGOTP,
You insist that your high school was populated by creative geniuses, and I have no doubt that many of the graduates went on to have interesting lives, you among them. What you seem to have forgotten is that, at the age of 16 or 17, both you and Trish were still puppies and probably not as fantabulous as you imagined yourselves at the time. Which is to say: How can you feel judged when the person Trish was judging was a shadow of the person you actually are now? And furthermore, how can you be so sure that Trish grew up to be someone you'd actually want to be friends with as an adult?
Sure, no one completely gets over the sting of being told to "move over" on the bleachers during the senior talent show so New Best Friend can take your place. (T.C., you know who you are!) But that Trish's diss still actively hurts you 40 years hence makes me think that what you're really suffering from is an acute case of nostalgia. You're not mooning over a person but over a fantasy—of being 16 again, when everything seemed possible and electrifying and terrifying. If that's the case, know that you're not alone. At any moment in time, a majority of the population (i.e., everyone over 30) is wishing they were young again.
I bet you've made some great friends since Trish. Go enjoy their company!
Sincerely,
Friend or Foe
Dear Friend or Foe,
Two years ago I moved to Canada to be closer to my then-boyfriend, now-husband. I've made some great friends here, but one continues to cause me regular grief. "Deirdre" is the girlfriend of my husband's best friend, and she's always finding a reason to hold my immigration status over my head. I've tried to be cordial, if not friendly, but Super Bowl night was the last straw.
I've been unable to return to the United States for immigration reasons, but decided to host a Super Bowl party to a) give my friends a good time, and b) give myself a taste of home to make me feel a little less homesick. I naturally invited Deirdre, but she made a big deal about refusing to come because she couldn't care less about the "American pastime." She also felt compelled to remind me that I'm "in Canada now and no one cares about football here." I've not only made a decisive effort to become a fan of hockey, but her boyfriend also happens to be an American football fan. I genuinely wanted her to come, but after this I just don't know how to reconcile her (seemingly) anti-American bias with a real friendship. How do I maintain a friendship but let this latest slight go when it hits at the core of everything I am?
Sincerely,
I Miss Football, Damnit!
Dear IMFD,
Clearly, the woman wants to sleep with your husband. (Joke!) I wasn't there to hear Deidre's tone of voice when she delivered the "blow." But assuming it was delivered in a jokey and not hideously sneering voice, methinks someone is being a little sensitive! You're going to stop speaking to the woman because she made fun of your attachment—to football? I could see feeling hurt if, say, she mocked your job. Or husband. Or home. But your attachment to a spectator sport? Really? Here's a little secret: Many American women kind of couldn't care less about football, either.
As for Canadian vs. American animosity, I'll admit that I wasn't aware it was an issue, let alone the next Israel-Palestine, though I knew Canadians didn't always appreciate the cracks about Celine Dion's schlock quotient—never mind the recent Winter Olympic snafus. In any case, I bet you had a really fun Super Bowl party without Deirdre. Her loss, no? I also hope your immigration problems are solved before next season's NFL opener, so you can go enjoy a game or two on your home turf. If you're still feeling angry and vindictive, perhaps you can invite Deirdre's boyfriend along for the ride.
Sincerely,
Friend or Foe
Become a fan of DoubleX on Facebook. Follow us on Twitter.
---