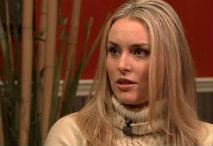 Hanna, your post on Lindsey Vonn's "Olympic girl drama"-the familiar quadrennial narrative of brave athlete betrayed by her body but triumphing by dint of superhuman persistence and pluck-and especially the question in the title bar, "Is Lindsey Vonn really injured?" strikes me as too cynical. I'm a total sucker for the Olympics, so I prefer another stock story: the athlete who sacrifices normalcy (school, siblings, and a social life) for the crazy dream of Olympic gold. The Games and their spotlight come around just once every four years, and Vonn's sport, downhill skiing, is one where a bump in the snow or an ill-starred time slot can render all that preparation useless.
I don't know why Vonn went on the Today Show this morning. (Though in a sport that only gets widespread attention during the Olympiad, who can blame her. She'll only get on the Wheaties box if she wins gold, but after a few sit-downs with Matt Lauer, we're more likely to recognize her there.) It could be about lowering expectations, it could be a mind game she's playing with her rivals (given the way she talked about her secret workouts in the New York Times profile , that's a good possibility), or she might really be injured. I favor the last explanation, and even knowing it might be a ruse or a psychological crutch, it still breaks my heart. She has spent her whole life skiing, training, and skipping dessert, and now a deep muscle bruise might rob her of a chance at gold. That's harsh.
Photograph of Lindsey Vonn via screenshot of Today Show clip.
---