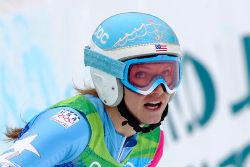 Hanna, like you, I have been fascinated by the competitive relationship between skiers Julia Mancuso and Lindsey Vonn. The friendly battle between the two was at its height last week , when Vonn won the gold and Mancuso the silver in the downhill. It all seemed in good fun then, Mancuso poking fun at Vonn's overseriousness and Vonn taking the high road, saying diplomatically that Mancuso merely "approaches things differently ."
But things have been less than golden this week. First, in an unfortunate turn of events, Vonn's crash in the giant slalom on Wednesday ruined Mancuso's first run-they had to stop Mancuso in the middle to clear Vonn off the course. Mancuso was understandably furious at the situation. She won gold in the G.S. in Turin, and says she "can't wonder what if" Vonn hadn't crashed and marred her first run. Then things became more upsetting for Mancuso : She got news that a close friend of hers from Squaw Valley, professional skier C.R. Johnson, died in an accident on the slopes. Though Mancuso's second giant slalom run was the third fastest*, and she ended up in eighth place in what was her final event at the Olympics. The rivalry no longer seems happily spirited, only bitter and sad. Vonn will compete in the slalom today, despite several injuries, while I imagine Mancuso will be heading back to the lower 48.
*C orrection, Mar. 1 2010 : The original version of this blog post stated that Julia Mancuso's second giant slalom run was not great.
Photograph of Julia Mancuso by Sandra Behne/Bongarts.
---