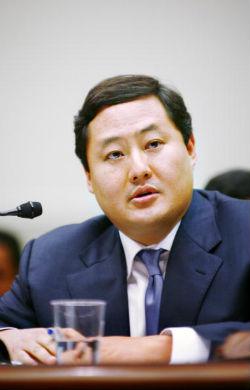 The lawyer who helped John Yoo write the August 2002 torture memos was a law school classmate of mine at Yale. Her name is Jennifer Koester Hardy (when I knew her, it was Jennifer Koester; she has since gotten married). Her name was supposed to be redacted from the Justice Department ethics investigation into Yoo and Jay Bybee, his boss in the Bush Office of Legal Counsel. But a footnote identifies her, as TPM Muckraker tells us . She also co-wrote a law review article with Yoo. And in a July 2002 letter to CIA counsel John Rizzo, about what is necessary to establish torture as a crime, Yoo tells Rizzo to direct questions to him or to Koester.
After she worked with Yoo in 2002, Jen clerked for Clarence Thomas - she was his third Yale clerk, according to this list . Then I think she went back to the Justice Department. Now she's a lawyer at Kirkland & Ellis. In law school, she was hugely involved with the Federalist Society. I remember her as a religious Christian. Also as principled in her beliefs - thoughtful rather than knee-jerk. She had a lot of friends, many of whose politics she didn't share. We graduated in 2000, before 9/11 put terrorism and national security on the radar and I don't remember talking to her about anything related (nor do the classmates I talked to about her today). What we do remember is that Jen was a lot of fun. She helped mock the faculty in the end-of-year Law Revue spoof. She was talkative and smiled a lot. The DoJ investigators from the Office of Legal Counsel conclude that because she was inexperienced when she worked with Yoo, "she should not be held professionally responsible for the incomplete and one-sided legal advice in the memoranda." Scott Horton disagrees .
Photograph of John Yoo by Melissa Golden/Getty Images News.
---